Who doesn't love a good meme? Dolly Parton gave a new take on an internet-favorite meme. The popular meme shows a man and woman walking down the street, passing by another woman. The man is mid-double-take as the woman with him stares on in anger. Known as the "distracted boyfriend" meme, it has been modified many times over.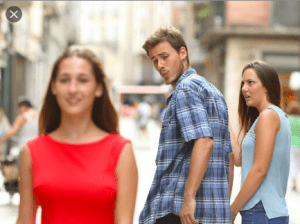 Dolly Parton Takes On 'Distracted Boyfriend' Meme
Dolly Parton may be 75-years-old, but she's still keeping up with trends. She showed that her meme game is just as strong as unofficial 'Meme Queen' Loretta Lynn. Dolly Parton jumped into the meme game with her take on what distracts a boyfriend, while referencing one of her most iconic songs. 
In Dolly's version of the meme, the boyfriend is distracted by a girl named Jolene. His wandering eye isn't amusing to his girlfriend. In a photoshop win, "Jolene" is wearing a sweatshirt from Dolly Parton's merch line. The pink hoodie says "I Will Always Love You" on the front. 
The legendary singer captioned the post with the joke, "How did Jolene get some of my merch?!"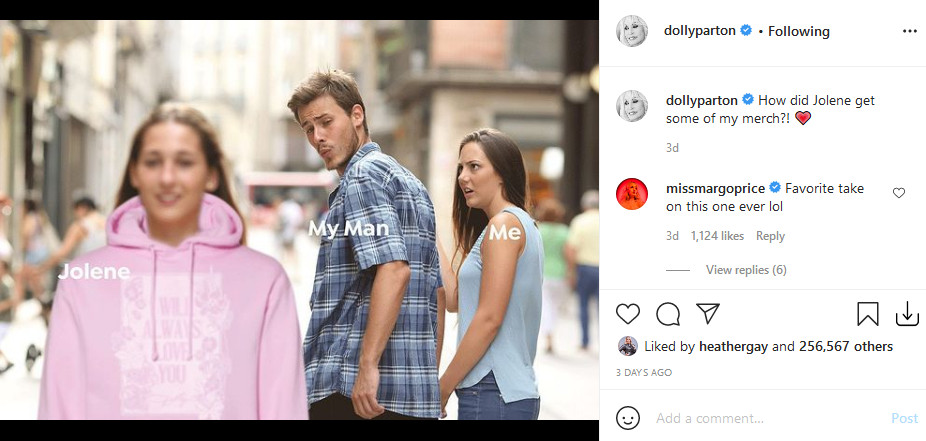 Fans React to Iconic Meme
Dolly Parton has amassed almost 4 million followers on Instagram. Her update to the overused meme earned over 250,000 'likes' and many comments. Many fans simply tagged a friend in the post to share the meme with other Dolly fans. But Dolly Parton's post also got a ton of comments appreciating her sense of humor and wit. 
Some of the comments include: 
Favorite take on this one ever lol
THIS ACCOUNT IS RUN BY A GENIUS
Everybody loves Dolly! Even Jolene. 💛💛
I'm begging of you please don't take my hoodie
She loves you too! Why do you think she's always been after your man? 💁🏼‍♀️
Dolly with the zingers 🙌🏽
Need More Dolly in Your Life? Check Out These Netflix Titles
Dolly Parton has a lot of irons in the fire. She recently lent her voice to Apple Watch for an episode of their new Time to Walk fitness venture.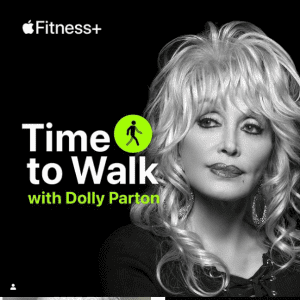 She also has several projects streaming on Netflix. She got fans into the holiday spirit with her angelic role in Christmas on the Square. 
Southern Living recommends checking out the Dolly Parton documentary Here I Am and Dolly Parton's Heartstrings. All three are available to stream on Netflix. 
Did you get a kick out of Dolly Parton's take on the classic "distracted boyfriend" meme? Let us know your suggestions for which meme should be Dolly-fied next. 
Be sure to follow us on Facebook for all the latest news on all your favorite country artists.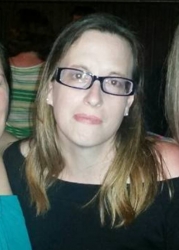 Latest posts by Jennifer Havener
(see all)