While Morgan Wallen is deep in the throws of the cancel culture phenomenon surrounding his latest rowdy stunt, it seems that few people have his back. However, his sister, Ashlyne Wallen, has something to say about her brother's actions.
A Recap of the Morgan Wallen Controversy
Last weekend, Morgan Wallen's neighbor's doorbell camera caught him acting out after a night on the town in Nashville. Included in these rowdy escapades are a string of profanities. Unfortunately, one of Wallen's choice words during his rant was the n-word. Consequently, his use of the racial slur has landed the Country singer in hot water.
Shortly after the media got its hands on the video, Morgan Wallen issued an apology via TMZ. However, it seems that this apology isn't much different from apologies past. Wallen says, "I used an unacceptable and inappropriate racial slur that I wish I could take back. There is no excuse for this type of language, ever. I want to sincerely apologize for using the word. I promise to do better."
Unlike the time he disregarded COVID-19 protocol and got canned from Saturday Night Live, Morgan Wallen's Country music counterparts were not quick to rally behind him. It is quite the opposite this time. Many Country stars take to social media to express their strong feelings about Wallen's most recent rowdy actions. Most importantly, that his actions are not representative of the genre as a whole.
Ashlyne Wallen Speaks Up For Her Brother
Morgan Wallen's sister, Ashlyne Wallen, gives touching comments in regards to her brother's most recent actions. Her comments are lengthy. They take up 7 slides on Instagram, as seen below.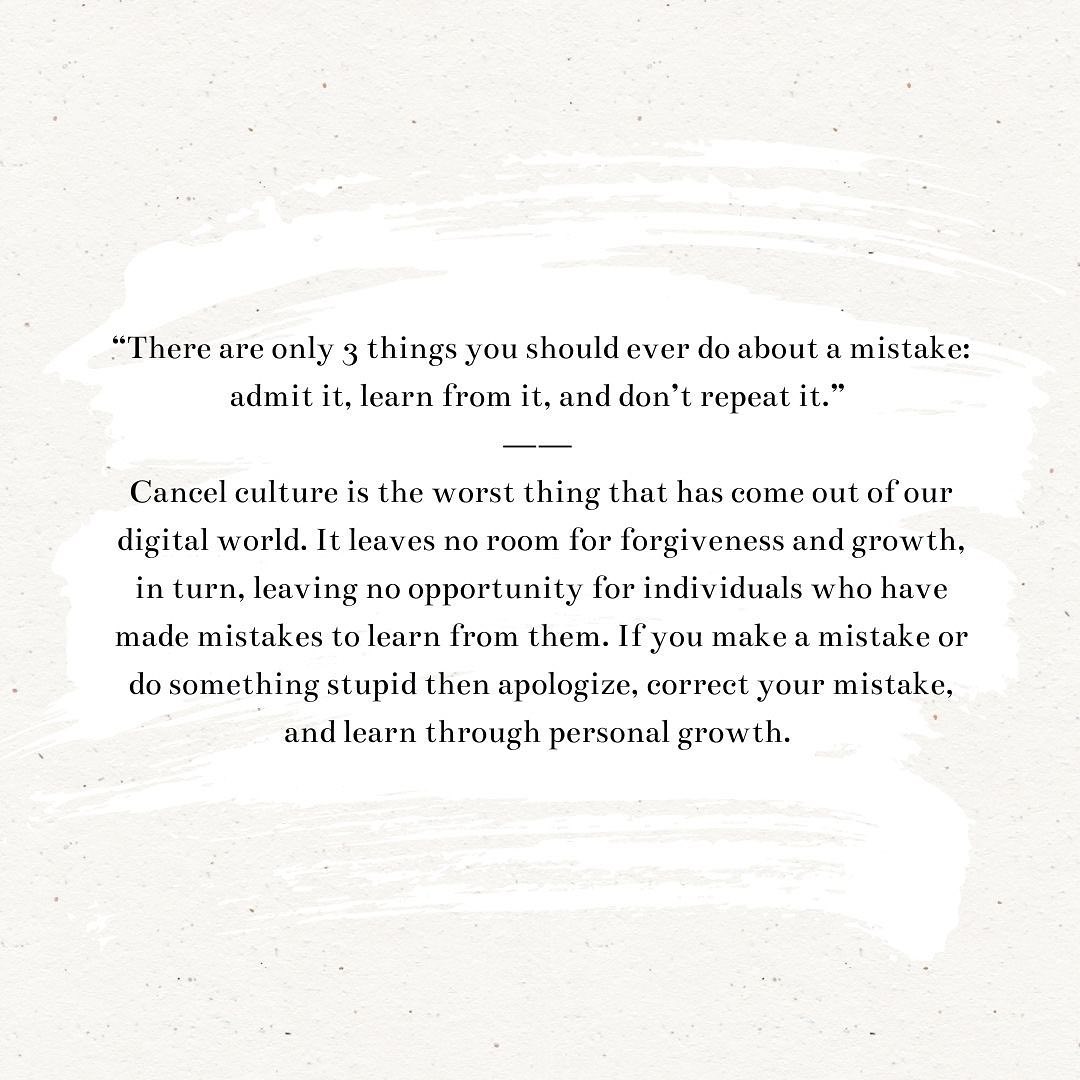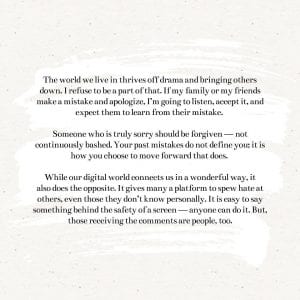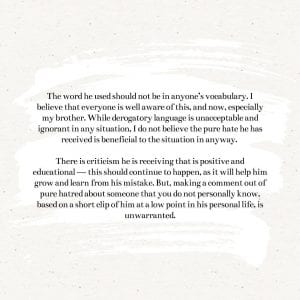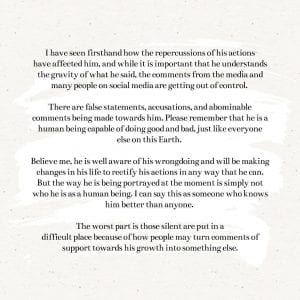 Ashlyne begins the post with what appears to be a quote. "There are only 3 things you should ever do about a mistake: admit it, learn from it, and don't repeat it," she writes. She goes on the express that cancel culture "is the worst thing that has come out of our digital world." Her explanation for her belief about cancel culture is articulate. She writes, "It leaves no room for forgiveness and growth."
Next, she goes on to speak about how she feels this situation should have been handled. "Someone who is truly sorry should be forgiven– not continuously bashed. Your past mistakes do not define you; it is how you choose to move forward that does."
Furthermore, it is evident that Ashlyne doesn't condone Morgan Wallen's actions. She goes on to write directly about her brother.
I know my brother. He is my best friend, and although what he said was completely unacceptable. I know in my heart that it did not come from a place of hate or malicious intent.

Should he have said it? No.

But should he be given the opportunity to correct his mistake and learn from it? Yes."
"And sometimes, humans make big mistakes."
Ashlyne goes on to give touching insight about a side of Morgan Wallen it's likely that not many people get to see. "Morgan has one of the biggest hearts of anyone I have ever met," writes his little sister. She goes on to detail how "it doesn't matter who you are or where you are from, he will welcome you with open arms and show you kindness." She acknowledges that while he wouldn't hurt anyone, "he is also human. And sometimes, humans make big mistakes."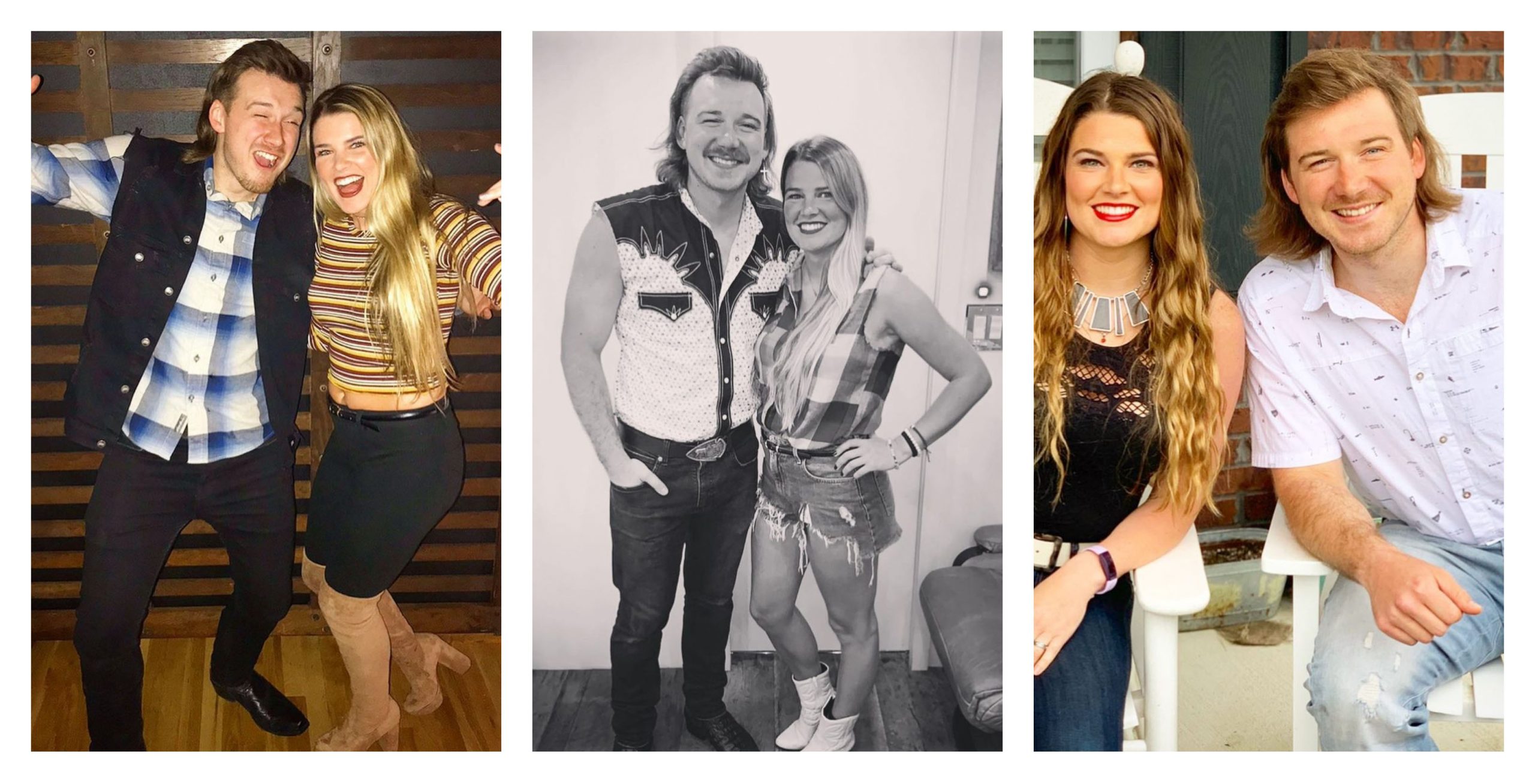 In closing, Ashlyne writes, "If you don't have anything kind to say, please say nothing at all. The only thing our world needs more is love."
At the time of this writing, Morgan Wallen hasn't made any further comments about this incident. However, his sister's statement is very well thought out and seems to summarize everything beautifully.
How do you feel about Morgan Wallen's sister's comments? Let us know in the comment section below. Come back to Country Music Alley for more news about your favorite Country stars.