Faith Hill showed her support for Mickey Guyton. She also revealed that she has "a lot of work to do." She praised the country star's Grammys performance and called it "true as it gets." In fact, Faith was so moved that she almost forgot to record it while capturing the footage of the event. Mickey performed her song "Black Like Me" during the broadcast on Sunday night.
The singer described the song as therapeutic. It was a response to the racial inequality and setbacks she faced as a performer in the country music industry due to her skin color. "Black Like Me" is featured on her 2020 Bridges EP. Mickey released the song amid the Black Lives Matter Movement.
Faith Hill and Tim McGraw watch Mickey Guyton's performance
The "This Kiss" singer took to Instagram to share her praises. On Monday, March 15, Faith Hill posted a clip of Mickey's Grammys performance. In the lengthy caption, she admitted that she "was so taken BY her performance I forgot to press record." Faith says that Mickey "Killed it!!!!!" She also had more kind words to say about the new artist.
"Mickey Guyton has been recording country music for a few years now," she continued. "However, Black Like Me is the song that hit me hard this time."
In her caption, Faith said she has "a lot of work to do in most areas of my life." She explained that "Three chords and the truth " is "how country music is described by country music artists and those that love and listen to country music." Faith ended her message by saying that Mickey's performance "is about as true as it gets."
Over 270,000 fans liked the country star's post. Fans were happy to see her support for a black country artist. One fan remarked: "My girl Faith Hill always supporting diversity. Love your whole family." A second user commented: "What a song. I am so sorry that she is made to feel that way in this country."
But Faith wasn't the only one. Her husband, Tim McGraw, was also watching Mickey's performance. In the clip, Faith exclaims: "Aw, s***, I missed it!" "Did you?" Tim said in the background. That's what Faith meant when she wrote: "Forgive me for the curse word."
The country couple has been vocal about social activism
As noted by a fan, Faith Hill and Tim McGraw have always shown their support for diverse artists. They also have been vocal about social justice issues, according to Taste Of Country. In 2017, both Faith and Tim called for "common sense" gun control laws following Route 91 Harvest Festival mass shooting. Then, they joined former First Lady Michelle Obama's campaign to encourage voter registration.
Faith has recently spoken out about another important issue. She has shared her support for racial equality. The Mississippi native asked the state to change its official flag, which features the Confederate flag. The flag has since been changed to feature the white magnolia blossom along with the slogan, "In God We Trust."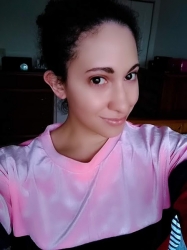 Latest posts by Chanel Adams
(see all)