Kelly Clarkson continues to make headlines for her cover songs. She opens each show with her segment called "Kellyoke." Each day, she performs a different song requested by a viewer. Fans agree that she can sing everything and she continues to prove that.
Her daytime show makes people smile in these challenging times. While it had a rough start, it has since found its footing. Kelly is known for her talkative energy and personable approach. Viewers love the way that she interacts with her guests, while some critics think she talks too much.
Find out what Kelly performed recently and why she can't stop giggling over "WAP."
Kelly Clarkson performs this punk classic from the Clash
The "Behind These Hazel Eyes" is rocking out once again. On the Wednesday, March 24 broadcast of The Kelly Clarkson Show, the host performed the punk rock classic during her popular "Kellyoke" segment. By fan request, she took on the Clash's 1982 single "Should I Stay or Should I Go."
Kelly stayed true to the band's punk energy. She gave everything she got and added her powerful vocals to this upbeat arrangement. "Should I Stay or Should I Go" is one of the Clash's most popular songs. In 2004, it landed on the list of 500 Greatest Songs of All Time by Rolling Stone. This comes after Kelly's covers by SWP and Adele.
"I swear Kelly is one of the greatest singers of her generation," one fan wrote. Another fan said that she can sing any genre of music "brilliantly" and "seamlessly." Most fans agree that the American Idol alum can sing any genre because of her raw vocal talent. One joked that she could "sing the phone book and do it with style."
Other fans would love to hear more punk rock covers by Kelly. They loved when she performed pop-rock songs like "My Life Would Suck Without You" and "Since U Been Gone." They feel that her voice matches the energy of these songs. Of course, there are some who love it when she sings more soulful songs.
Why did she lose it over "WAP"?
Fans agree that music can get us through these difficult times. It's one of the reasons why "Kellyoke" has become so popular. Music brings people together and it allows them to focus on something else other than what's going on in the world. When she invited actress Gwyneth Paltrow on The Kelly Clarkson Show this week, she had to ask, "What are some songs you go to when you're down?"
The actress bluntly said, "Wet Ass P****." Clarkson absolutely lost it. "I need to see the tape back!" Kelly exclaimed. Then, she had a good laugh that almost had her falling out of her chair. "God, you win for favorite guest this season," she told the GOOP founder. "That was amazing, I needed that in my soul."
Fans can't stop watching this feel-good moment. It's what they needed to get through this long week. One even joked that they need Kelly to perform her version of "WAP." Check out the hilarious video for yourself below.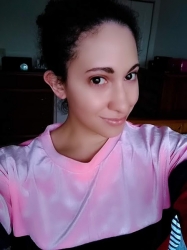 Latest posts by Chanel Adams
(see all)