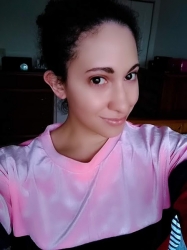 Latest posts by Chanel Adams
(see all)
Gwen Stefani celebrated the 25th anniversary of No Doubt's single "Don't Speak" this week. Now, she's reflecting on her career with the band. The singer has been going back to her ska-punk roots. To the surprise of her fans, she's even revisited some of her iconic looks.
Even with the renewed interest in No Doubt among both the younger and older generation, she doesn't see the band getting back together. The "Let Me Reintroduce Myself" singer has doubts about a reunion or tour. However, that hasn't stopped fans from asking Gwen to get the band back together.
Did she Gwen Stefani hint that No Doubt is over for good?
Nearly every day, No Doubt fans ask Gwen Stefani on social media if the band will ever reunite. Fans are ready for a reunion tour or a new album. It looks like they'll be waiting for a while. In a new interview with Variety, Gwen reflected back on her career, especially with the band that made her famous.
As of right now, there are no plans for the group to get back together. In the interview, the singer may have hinted that they're done for good. In this case, fans will have to go back to No Doubt's old albums to achieve that sense of nostalgia. The group has done all that they have when it comes to performing and making music.
"I don't know about No Doubt," Gwen said. "We had so many years together and we all have families now and that's just our priority. I can't really imagine what the future holds with that. We had done some big shows together, a bunch of festivals probably six years ago, and we had knew that was kind of the last thing we were going to do together."
There was tension among the group at the height of fame
"Don't Speak" spent three weeks at No. 1 on the UK's Official Singles Chart. Gwen Stefani thinks the worldwide success of the song led to tensions in the band. She found herself becoming the star of the group. She co-wrote the lyrics with her brother, Eric Stefani. Suddenly, she became known for her lyricism as well as her sense of style.
"There was a lot of tension between us with the band feeling like I was being put in the spotlight more than them – that competition that they felt," Gwen continued. "We couldn't really enjoy the success."
In 2001, No Doubt announced their hiatus. Gwen has since embarked on a solo career. She released two solo albums and a series of hits, including "Hollaback Girl," "The Sweet Escape," and "What You Waiting For?" No Doubt briefly reunited in 2012 for their latest and final album, Push And Shove.
Gwen is currently working on new music for her upcoming studio album. She released two singles "Let Me Reintroduce Myself" and "Slow Clap." The songstress revealed that she's still writing music for her untitled album. Check back with Country Music Alley for more news on Gwen Stefani.