Dolly Parton received her second COVID-19 vaccination. The legend celebrated this moment by making a trip to Dollywood, of course. She commended the cast members for their hard work and efforts. In early March, Parton announced that she would return to the theme park after a full vaccination.
On Wednesday, March 3, the "Jolene" singer shared a video of herself getting the first dose of the Moderna vaccine. She also changed the lyrics of her iconic song and urged her fans to do the same. Since getting the second shot, she decided to make a return to Dollywood. The park is currently having its Flower and Food Festival, which runs from April 23 to June 7.
Dolly Parton returns to Dollywood
On Wednesday, May 12, Dolly Parton celebrated her fully vaccinated self by taking a trip to Dollywood. She joined Good Morning America host Robin Roberts in the festivities. During the visit, the "Coat of Many Colors" store performed her 1971 hit song. Parton also addressed Dollywood's opening after a year of COVID-19 restrictions and travel limitations.
Like every other theme park in the world, Dollywood closed in March 2020 at the start of the novel pandemic. The theme park opened with limited capacity, social distancing rules, and restrictions. Parton commended the "crew" for "all the things that they've done." She considers the employees as "members of her family."
"This is our 36th season, by the way. We've got all kinds of people that have been here from the start," Parton said. "We're partners. That's the way I am with my band. We're all just partners here. It takes us all to make it work."
Dollywood has been transformed with 500,000 flowers for the Flower and Food Festival. The signature festival also includes the famous sculpture called the Coat of Many Colors. Of course, there's a floral sculpture of Parton herself. When seeing the sculpture, Parton said she was "emotional."
"That little coat has carried me so far, it's kind of like a signature thing," Parton added.
Maybe it's Botox. Maybe it's the COVID-19 vaccine.
Dolly Parton is looking much happier lately. She also made an appearance at the virtual #WOW: Whole Health Includes Mental Health on Thursday, May 13. The 75-year-old performed her song "Light of a Clear Blue Morning" and talked about the importance of mental health. Parton also revealed why she looked so happy to attend the event.
"I'm often told I look so happy, but to be honest — that's the botox," Parton joked during her segment, per People. "Well, not all of it, but some of it anyway!"
"But seriously, we all experience moments of anxiety or depression at one time or another," she continued on a serious note, "and I believe it's how we handle those moments that ultimately define us."
Parton explained how she came up with "Light of a Clear Blue Moment." She went through a bout of anxiety about making a new career move. Parton was so nervous that she "couldn't eat, couldn't sleep, couldn't think straight." Thanks to the power of "prayer and the support of friends," she got the courage she needed to make this career move.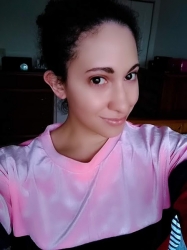 Latest posts by Chanel Adams
(see all)