Carrie Underwood gave fans a glimpse at her muscular thighs. She got quite the response to her legs in purple cycling shorts. The 38-year-old country singer and CALIA founder shared yet another gym selfie. Her incredible physique was on display in the photo.
However, the caption was inspirational and motivational for her followers. Carrie is always inspiring fans on social media. In 2020, she founded the Fit52 app alongside her personal trainer, Eve Overland. The mobile includes at-home workouts and is based on her book, Find Your Path: Honor Your Body, Fuel Your Soul, and Get Strong with the Fit52 Life.
Carrie Underwood works up a sweat in Instagram post
Carrie Underwood also has her successful athleisure line called CALIA. She took to the brand's official Instagram as part of the #ChooseYou program. With this hashtag, others give a shoutout to the apparel brand. The photo showed Carrie in a white tank top and lilac shorts.
She puts her hands on her hips as she breathes and steps onto the pavement. She's seen doing a quad-building lunge on the cement steps. The "Soft and Tenderly" singer wore her signature blonde hair in a fishtail braid. "When you make time to #ChooseYou, you're better for it. Did you work in your workout today?" the caption reads.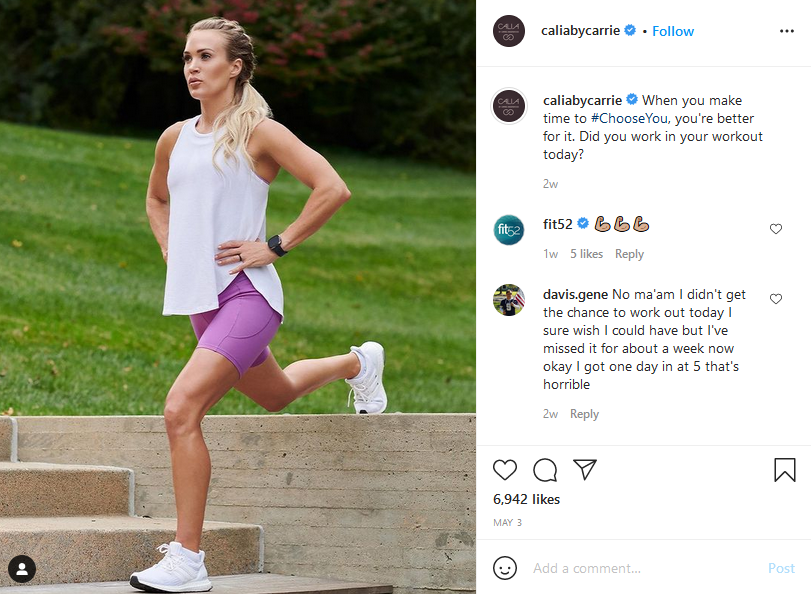 Fit52 was the first to respond to CALIA's Instagram post with three muscle emojis. Other fans were impressed with Carrie's muscular thighs. They couldn't help but look and comment on them. "Always chasing those Carrie legs!" one fan wrote, to which another added, "No ma'am I didn't get the chance to work out today I sure wish I could have but I've missed it for about a week."
CALIA was able to develop a massive social media following. Thankfully, it was able to over the coronavirus pandemic. It's on-brand with the pandemic's home workout trend.
How CALIA rose to the top
Carrie Underwood found success when she founded this brand. CALIA ranks third after  Nike and Under Armour at Dick's Sporting Goods since 2016. In an interview with Forbes, she explained how she handles the creative side of the business. Sometimes her creativity doesn't end with music videos and concerts. Carrie uses her brand to also tap into creativity.
"CALIA is one of those ways [to be creative], getting to go to virtual meetings and look at design elements and try to figure out what we're gonna do with that," the singer told Forbes. "I'm lucky that I have a lot of creative things that don't just rely on being on stage in front of people."
Earlier this year, Carrie celebrated the sixth anniversary of CALIA. The songstress took to her personal social media to tease her fans that there is more to come. Carrie wants to expand the brand with more than just fitness apparel and accessories. She's hoping that it will become a successful clothing brand.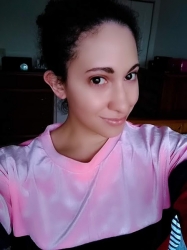 Latest posts by Chanel Adams
(see all)