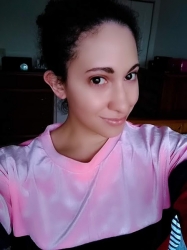 Latest posts by Chanel Adams
(see all)
They say, "These boots are made for walking." Gwen Stefani figuratively walked all over her husband Blake Shelton. She wore her heart on her feet, rather than her sleeve. The No Doubt singer made headlines with her unusual sense of style.
On Saturday, July 3, Gwen and Blake tied the knot in Tishomingo, Oklahoma. They had an intimate ceremony with friends and family. They wanted to keep the ceremony as small as possible due to COVID. Since then, they've been on cloud nine, sharing their love with their fans.
No Doubt singer makes a strong statement
Gwen Stefani declared herself a big Blake Shelton fan. She wore custom-made Vans slide-on sneakers with the country star's face on them. She wore the black-and-white checkered shoes while as she ran errands in Los Angeles. The 51-year-old also wore a denim jacket over a white T-shirt with baggy blue sweatpants from her Anaheim Hillbillies clothing line.
She wore a white floral print blouse tied around her waist. The blonde beauty had her hair pulled back in a straight ponytail. She accompanied her look with gold jewelry, diamonds, and a smile on her face. Before she married Blake, Gwen would often wear her heart on her nails or on her clothing. She also donned a "Shelton" gold necklace earlier this year.
No doubt, Gwen loves her cowboy… https://t.co/h4SgOaVugP

— Footwear Plus (@FootwearPlusMag) August 3, 2021
As Country Music Alley previously reported, Gwen's relationship with Blake influenced her style. She even reverted to wearing cowgirl boots instead of her usual Converse sneakers. She feels comfortable with being a country gal at their ranch in Oklahoma. She also gave a nod to the "Minimum Wage" singer during their wedding, when she wore a custom-made Vera Wang dress embroidered with their names, as well as the names of her three sons.
Gwen Stefani wore Blake Shelton shoes before
This isn't the first time that the "Slow Clap" singer supported her man. It's just the first time she's done it one month after tying the knot. Gwen Stefani wore Blake Shelton shoes in the past, so it's not completely new. Her strange accessory is making news once again since she became Mrs. Shelton.
That's what the singer wants you to call her. Gwen Stefani loves to be called, "Gwen Shelton." However, Blake loves to call her, "Gwen Stefani Shelton." So, it's safe to say that the couple hasn't come to an agreement on her name yet.
Gwen is desperate to move on from her past. She even didn't interact much with her ex-husband Gavin Rossdale, when they attended their son's game. The exes even kept a six-foot distance during the outing. The pop star is happy with her countryman and it shows.
Check back with Country Music Alley for more news on Gwen Stefani.