Seeing a #1 tag next to her name is nothing new to Dolly Parton.  The country music legend recognized by the Guinness Book of World Records for her unparalleled success in her industry consistently attributes her chart-topping, timeless catalog of songs, her business savvy, and her lifelong philanthropy to her parents' legacy of faith and their tireless work ethic.  At the moment, Dolly Parton is literally celebrating the sweet smell of another success, her "Scent From Above" fragrance line. In characteristic fashion, Parton marked the launch with a hopeful, faith-filled song, "Sent From Above."
Like a song, initial inventories of the perfume sailed off the shelves at HSN and other outlets. Many Dolly Parton fans still await deliveries. At 75, however, the national treasure, eternal Tennessee flower, and songwriting wonder takes an all-new, first-time-ever #1 spot this morning– in her adult novelist debut, as MSN per Today and Yahoo News confirm.  Unbelievably, Dolly Parton's engine of creativity and goodwill keeps chugging along, and the "Dreamer-in-Chief" never ceases to amaze!
Dolly Parton and James Patterson make a dynamite writing duo
Notably, Amazon flies the banner of "#1 New Release" alongside its description for Run Rose Run.  Despite the fact that the Nashville-based thriller/fictional journey of the girl who comes to Music City "on the rise and on the run" won't be available for anyone's bedside table until March 7 of 2022, Dolly Parton and James Patterson have no worries about making the bestseller list.
From the time Dolly Parton sang "Little Tiny Tasseltop", sending her mother scrambling to jot down every word tumbling out of her daughter's mouth, Dolly Parton set stories to music.  Long before she could read or write, Dolly Rebecca held her vivid imagination and stories of life in her heart.  For instance, "Jolene" rose from a chance meeting with a young fan who had the name Parton loved and a flirty female associate at a bank who made overly friendly approaches to Dolly's then-future husband of 56 years, Carl Dean.
Similarly, early gems like "Applejack" came from the true-life acquaintances and daily interactions of her youth.  "Coat of Many Colors" endures as the living, lasting homage to her mother's selflessness.  Dolly Parton stands as a supreme storyteller.  She coins the term "Songteller" for the title of her 2020 chronicle of her life through song.  The only difference for Run Rose Run is that none of the words need to rhyme.
James Patterson, likewise, needs no introduction in any literary circle.  Without question, he is the world's best-selling author.  His titles in crime, suspense, and a smattering of other literature adventures easily consume half of an average bookstore.  The Along Came a Spider author shared a spirited collaboration with former President Bill Clinton in writing The President Is Missing.  Even with all his accolades, James Patterson never co-authored with a Queen until now. Enter Dolly Parton!
I've combined my love of storytelling and books with the release of #RunRoseRun, a novel I've co-authored with @JP_Books! Pre order your copy today! https://t.co/tAmKUOoOBG pic.twitter.com/89zt2HIWhY

— Dolly Parton (@DollyParton) August 11, 2021
Darker shades, but still smiles
In an Instagram announcement, Dolly Parton beams the same warm smile she wears in her many messages of affirmation to the world or to her many young readers introduced to books through her global literacy initiative, the Imagination Library.  In contrast, it seems James Patterson finds the effort of cheer a little more taxing, like those forced school pictures.  Still, Dolly Parton brings out the best in everyone, and it's bound to show in the pages. Besides being close in age, Patterson and Parton are both deeply involved with promoting all aspects of literacy with youth. In recent years, James Patterson's young reader's series have become wildly popular.
Apart from the smiles, there's little shimmer to the photo. Patterson goes for jeans and a sweatshirt, while Dolly Parton dons a sleek black ensemble, with a sheer-neckline blouse and a red floral motif, naturally reminiscent of a rose. In numerous interviews over last summer, Dolly Parton mentions her affinity for true-crime TV.  She speaks of being fascinated at how "a single leaf" leads to solving a crime.  It's hardly a wonder that James Patterson popped into her mind for the adventure with Rose.  She knows music.  He knows a taut thriller.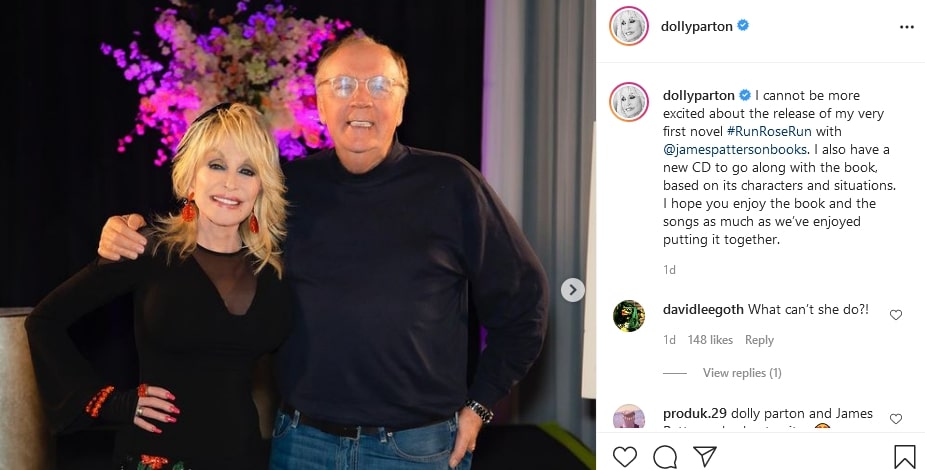 Rose is determined and desperate
"Find a future… Lose a past…" echoes one of the fetching teasers for Run Rose Run.  Country Music Alley relates Dolly Parton's equating her early days with Porter Wagoner with feeling "like murder," but for the lead character in the debut novel, that outcome appears a definite possibility! Nashville is "where the darkness she's fled might find her. And destroy her," another snippet spills.
Dolly understands that too many doses of dark suspense are overwhelming to some fervent fans.  In that vein, a CD of music correlating to "the situations and the characters" will complement the book release.  Fortunately, there's no such thing as too many Dolly Parton songs, particularly brand-new ones!
Dolly Parton likely loves the fact that so many of her followers will see her in the lead character of her first novel, although, of course, never facing the same dire threats.  Rest assured, no one tells a story like Dolly, so expect sequels to follow for Rose and the busy writer!  By the way, Dolly gets top-billing!
Are you thrilled about Run Rose Run?  Speak up in the comments!
Latest posts by Tresa Patterson
(see all)