Carrie Underwood and controversy are rarely seen in the same sentence. The country singer shocked some of her fans on social media. It all started when she liked a tweet about anti-mask mandates. The Delta variant has taken over the U.S. It has led to mask and vaccine mandates in some parts of the countries.
Most Americans don't want another lockdown. However, they have to find a way to protect themselves. There is a lot of divide lately when it comes to masks and vaccines. Parents want their kids to be safe when returning to school, but they're unsure of what the best option is.
Carrie Underwood supports the anti-mask mandate
The country singer apparently supported a conservative writer's view on children wearing masks in school come this fall. Carrie Underwood "liked" a tweet that showed Matt Walsh sharing his concerns at the Metropolitan Nashville Board of Public Education. The Williamson County Board of Education approved the mask mandate, which requires students to wear masks indoors at all times. Walsh claims that the mask mandate is "abusive."
Meanwhile, parents are heard applauding him in the audience. "What if a parent forced his kid to wear a football helmet all day every day for fear of falling coconuts and meteors?" He asked. "If you saw that, you would say he's abusive." Walsh argued that forcing children to wear masks encourages them to believe that "the air is toxic" and "that everyone around them is sick."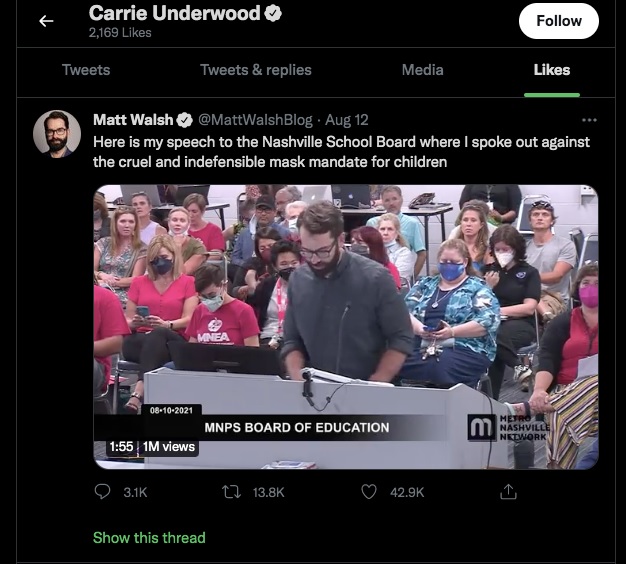 Underwood apparently liked the controversial tweet. Some of her fans took notice and vowed never to listen to her music again. Others slammed the singer for downplaying the surge of the Delta variant. Most don't have a problem with Underwood being anti-mask. It's that she liked a tweet from Matt Walsh that is the problem.
The American Idol alum is a mother herself
Fans know that Carrie Underwood has two young children with her husband Mike Fisher. Like most parents, she's not sure what to do in this new climate. It's unclear whether her children are affected by the mask mandate. The CDC has recommended the use of "universal indoor masking for all students (ages 2 years and older) along with teachers, staff, and visitors to K-12 schools regardless of their vaccination status."
This has become a controversial topic. Parents and school administrators are split on whether to have kids mask up this fall. For some reason, it's become a political matter rather than a matter of health and safety. Since the controversy erupted on social media, Underwood has not addressed the tweet. Some claim she has since "unliked" the video while others notice she hasn't.
Here is my speech to the Nashville School Board where I spoke out against the cruel and indefensible mask mandate for children pic.twitter.com/Eq5IFsKyja

— Matt Walsh (@MattWalshBlog) August 12, 2021
Matt Walsh acknowledged Underwood. He tweeted that "the mob is coming for her" since she liked his video. Regardless, Tennessee isn't the only city dealing with protests over mask mandates. Check back with Country Music Alley for more news on Carrie Underwood.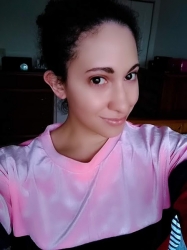 Latest posts by Chanel Adams
(see all)