The Kelly Clarkson Show is officially making its return. Filming started over the summer. The daytime talk show host is ready to become the new queen of daytime. On Monday, August 23, a premiere date has been announced. The show will make its grand return on Monday, September 13.
It's been a long summer without "Kellyoke." Fans are wondering what the singer will perform during the popular segment that makes headlines. For Season 3, Clarkson will kick off the show in New York City where the show and the audience will sit inside the Jazz at Lincoln Center. Shortly thereafter, the show will return its home at Universal Studios Hollywood.
The Kelly Clarkson Show Season 3 is back in-studio
Kelly Clarkson is filming the new season of her daytime show in front of a live audience. It's the first time in over a year since the show has had an in-studio audience since the coronavirus pandemic broke out in March 2020. Per Deadline, Kelly Clarkson will interact with the New Yorkers during the big premiere episode. The outlet also revealed that Imagine Dragons' "On Top of the World" will be her first "Kellyoke" performance of the season.
The Kelly Clarkson Show previously featured a virtual audience after its return last fall. It is gearing up to succeed The Ellen DeGeneres Show in fall 2022. On Monday, Clarkson released a new video in response to the news on YouTube. She shared that she just "can't wait to kick off" the third season. She felt that NYC was the perfect city to film the premiere since it's "known for its energy, resilience and the arts" that attracted her ever since she was a child.
"Now I warned people last season that mama would show up if I kept getting invited…well, no take-backs, here I am New York!" Clarkson says in her promo video.
What else should she sing in Season 3?
Fans flocked to the video to share their excitement. Most of them can't wait for the return of The Kelly Clarkson Show since it made their day. Some said they're marking their calendars and getting their snacks ready. One fan said they're excited about the Halloween show, while another can't wait for all the new interviews to come.
Some are also placing their bets on what songs she'll cover this season. In her latest "Kellyoke" segment, Clarkson and her band Y'all performed their rendition of "The Chain" by Fleetwood Mac. One fan suggested that she should sing "Landslide" next. Another fan would love to hear Clarkson cover an Evanescence song.
There's denying Clarkson's talent. She can sing anything she can put her mind to. What would you like to hear her perform this season? Sound off below in the comments.
Check back with Country Music Alley for more news on Kelly Clarkson.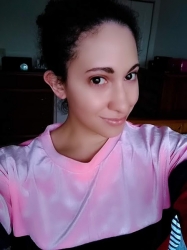 Latest posts by Chanel Adams
(see all)