Kelly Clarkson is dancing up a storm lately. It makes sense since she has had a lot to celebrate lately. She won several victories amid her ongoing legal battle with estranged husband Brandon Blackstock. Their divorce continues to play out in court and the media.
Brandon has contested everything under the sun. He even tried to get more money out of the American Idol singer. He wants to work full-time at his ranch in Montana, but he still claims he can't support himself and their two children. As for Kelly, her net worth continues to grow, thanks to her jobs on NBC's The Voice and The Kelly Clarkson Show.
Kelly Clarkson dances every time she hears her songs
The singer has every reason to dance these days. On her latest appearance on The Tonight Show With Jimmy Fallon, Kelly Clarkson admitted that she dances to her songs in the grocery store. She's one of those few artists that doesn't mind hearing one of her hit songs play over the intercom system. The 39-year-old told Jimmy that she likes to "sing-along and dance" to some of her hits.
"I'm a total tool," she said with a laugh.
Kelly recalled a moment when she visited a home improvement store with her friend. She heard one of her songs on the radio. She got into one of those moods and felt the need to belt out the song. Everyone around them must've gotten a free concert.
"I was just having a good day and I feel like you should really lean into that right now in this point in life if you're having a good day," Kelly explained. "And so, I leaned in and I just started dancing and embarrassing my friend Tricia in Lowe's and just started dancing and singing."
As for her, she was just feeling the music. She really wanted to give it her all. Kelly got on her knees and belted her heart out. Jimmy said the same thing happened to him when he went on a shopping spree at Target.
Watch her do the Carlton
On Tuesday, August 24, The Kelly Clarkson Show shared a video of the songstress having a dance-off with DWTS pro Derek Hough. The two had a dance battle against Leslie Grace and band vocalist Jessi Collins. They did a series of popular dances, including the robot, the running man, and twist. But it was the iconic "Carlton" from The Fresh Prince of Bel-Air that Kelly performed to perfection.
Her team ended up winning all because of it! Fans enjoyed watching the video as the show is currently on hiatus. They feel that Kelly and Derek would make the perfect pair on DWTS. Those who had a rough day would enjoy watching this video. It will uplift your spirits.
Check back with Country Music Alley for more news on Kelly Clarkson.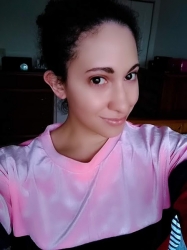 Latest posts by Chanel Adams
(see all)