Kelly Clarkson couldn't stop gushing over Ariana Grande. She's currently in New York City where she's filming Season 3 of The Kelly Clarkson Show. Country Music Alley reported the premiere date, which will have an in-studio audience for the first time since the coronavirus pandemic.
Over the summer, Kelly started filming Season 21 of The Voice. Ariana Grande announced that she's taking Nick Jonas's seat this season. It's her first time working as a coach on the show. As a result, Kelly and Ariana's friendship is blossoming and it's super adorable.
How does Kelly Clarkson feel about Ariana Grande?
The American Idol alum made an appearance on Late Night with Jimmy Fallon. Kelly Clarkson had nothing but kind things to say about Ariana Grande. She praised the pop star on everything from her powerhouse vocals to her personality. The 39-year-old singer is ecstatic to work with the 28-year-old, who joined the upcoming season.
Host Jimmy Fallon noted that all of the coaches are "gellin'" well with each other. Kelly agreed and said that things are going "so good." She couldn't help but stop talking about Ariana. It appears that the two have become good friends.
"I love her!" Kelly said. "We had actually run into each other a couple of times before, but not really like, been able to talk and she's so funny. Like, very witty."
So far, the coaches filmed every episode up to the live show. Kelly says Ariana is "hysterical" and is not like anything they've had before on the show. The "Because of You" singer made her start eight seasons ago, but she's never interacted with a coach like that.
Ariana stresses the importance of "vocal health" to the contestants. Kelly joked that she should've done that before. Jimmy Fallon joked that the show is "called The Voice" for a reason. Kelly couldn't stop smiling whenever she talked about the "Positions" star.
Ariana drives the audience crazy
Kelly Clarkson noted the impact that Ariana has on the audience. They scream every time she makes her entrance. Kelly explained that the coaches walk out with individual introductions. When Ariana's name is mentioned, the crowd goes wild.
"It is literally like BTS has entered the building. They lose their minds," Kelly said. "And Blake has to follow it!" she joked.
In March, Ariana announced that she would become the latest coach for Season 21 of the NBC singing competition. She replaced Nick Jonas, who returned to the show last year. Kelly, Blake Shelton, and John Legend have some tough competition. The new season of The Voice premieres on September 20 on NBC.
Check back with Country Music Alley for more news on Kelly Clarkson.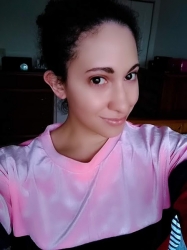 Latest posts by Chanel Adams
(see all)