Kelly Clarkson recently made an appearance on the Tonight Show with Jimmy Fallon. She talked about the new season of The Voice. Ariana Grande is the latest celebrity coach to sit in one of the coveted red seats. Kelly couldn't help but gush over the pint-sized singer.
During the interview, she also talked about the feeling she gets when she hears one of her songs play in the store. Kelly starts dancing and singing in front of everyone. She doesn't care if everyone watches. But it must be a treat to watch the first-ever American Idol winner put on a free concert.
Kelly Clarkson, Jimmy Fallon, and other celebrities cover "Since U Been Gone"
Jimmy Fallon enlisted the help of Kelly Clarkson and other celebrities to cover the 2004 hit. The video took place in 2019. Anthony Anderson, John Oliver, Meghan Trainor, Mumford & Sons, Rachel Brosnahan, Shaquille O'Neal, and The Roots performed their rendition of the pop-punk song. Clarkson started things off by singing in her low register. O'Neal tried his hand at the second line. The NBA star used to be a rapper, but he never really sang until now.
Fallon played the tune on his guitar. Of course, he did a very lively rendition of the song. Oliver sang "yes, yes" instead of "yeah, yeah." Trainor brought the song with her incredible vocals. Ever since this cover came out, fans have been asking her to release a cover of "Since U Been Gone." Others would love to see her perform alongside Clarkson.
Oliver screamed throughout the hook. Anderson sang the song as if he was a motivational speaker. Then everyone played their own air guitar solos. Mumford & Sons did their signature awkward dance moves. The video is kind of awesome in its hilariously awkward way. It's similar to a scene from the 2012 movie Pitch Perfect, where the acapella groups have to sing "Since U Been Gone."
"Since U Been Gone" is a hit
Fans think of this song when they think of Kelly Clarkson. "Since U Been Gone" won a Grammy for Best Female Pop Vocal Performance. It's also become the top karaoke song to perform alongside your friends at a dive bar. Clarkson has been known for her signature high notes.
"Since U Been Gone" received well-deserved praise. Clarkson continued to push herself musically and vocally. She even hit some high notes in her "Kellyoke" performances on The Kelly Clarkson Show. Fans agree that she is one of the best vocalists who could sing anything under the sun.
What are your thoughts on this cover? Who do you think sang it the best? What's your favorite "Kellyoke" cover? Sound off below in the comments.
Check back with Country Music Alley for more news on Kelly Clarkson.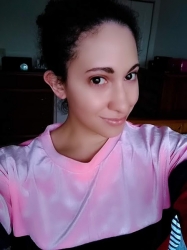 Latest posts by Chanel Adams
(see all)