Gwen Stefani is in the mood to play dress-up. The singer took to Instagram to share her latest look. She decided to revisit one of her latest looks. Gwen has many signature looks over the years. She has rocked every hair color under the sun, including blue, pink, and red hair.
However, she always goes back to blonde. It's become her signature shade. Of course, there will be times when Gwen loves to switch it up. The No Doubt frontwoman always keeps fans guessing with her looks.
She thanks her makeup artist for making her face look like this
On Thursday, September 9, Gwen Stefani posted a new selfie via Instagram. This time, the songstress rocked a whole new look with a revisited hairstyle. This is the same hairstyle that had fans divided over the summer. Gwen's hair was back to half blonde and half brunette.
She finished off her look with a white ripped tank top and silver chain necklaces that featured spikes and dog tags. She wore neon blue eye color and light pink lipstick. In the caption, Gwen thanked her makeup artist Michael Anthony for making her face look like this. Gwen also added that "playing dress-up never gets old thanks @manthony783 for turning my face into this face gx."
Her makeup artist was the first to share the look on his Instagram page. He wrote in the caption: "Gettin (G)L.A.M.B. W @gwenstefani today … always a dream, thanks Gwen." Hairdresser Sami Knight is responsible for Gwen's hair while fashion director Nicola Formichetti is responsible for her punk rock ensemble.
The "Let Me Reintroduce Myself" singer loves to renovate some of her old looks. She has rocked so many signature looks over the years, so it comes as no surprise to fans. They love seeing what else Gwen will come up with next. Gwen loves experimenting with her style. But it's not all done on her own. It comes with the help of her glam team.
Gwen Stefani fans react to her new look
Her post received over 137,000 likes. But what do fans really think? Gwen Stefani had most of her fans mixed once again. Some found her new look hot, while others think her natural look is better. "Your natural face is so much prettier. You have the gift of natural beauty," one fan wrote to which another added, "exactly. I'd love to see her without makeup…" Fans jumped into the comments and said that she should lay off the fillers and heavy eyebrows.
One defended Gwen and argued that "she's an entertainer and fashion designer. This is what they do." Obviously, the look is for an upcoming event. Regardless, her fans are obsessed with the look are looking forward to seeing what Gwen has up her sleeve next. She's rumored to release her own beauty line soon as she gears up for her Just a Girl residency in October.
What are your thoughts on Gwen's look? Which look do you like the most? Sound off below in the comments.
Check back with Country Music Alley for more news on Gwen Stefani.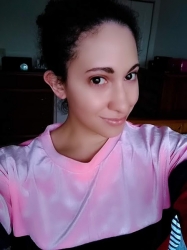 Latest posts by Chanel Adams
(see all)