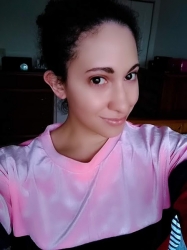 Latest posts by Chanel Adams
(see all)
Gwen Stefani is happy to be back on the stage. The 51-year-old joked about her return two months since her wedding to Blake Shelton. The couple got married in an intimate ceremony on the country singer's Tishomingo ranch. The two haven't had the time to go on a proper honeymoon.
Instead, they've been making sweet music together. Gwen has followed Blake on his Friends and Heroes Tour. The two also performed together at CMA Summer Jam. While Gwen is still in good shape, she admitted that she gets a little achy sometimes. The No Doubt singer took to Instagram to crack a joke about her age.
Gwen Stefani jokes that Toledo let her back on stage
In a previous post, Gwen Stefani shared photos from her concert in Toledo, Ohio. She joked: "They let me back on stage after 18 months of no-shows and eight weeks of eating wedding cake!!" She then added: "Thank u #Toledo #Ohio what a great vibe you have! My whole body hurts today cause of you."
The singer rocked out on stage in a sequin jacket and leopard print pants. Gwen paired her look with a daring bodysuit, her signature blonde ponytail, and red lipstick. She looked like she was very much in her element. Fans took to the post to share their thoughts.
"You put on an amazing show as always what a first show back!!"
"I literally had the best night, thank you."
"It was an amazing show and you rocked the stage like yesterday – you looked so beautiful too."
This comes ahead of Gwen's Just a Girl residency in Las Vegas, which returns in October. She's been gearing up for her big return to Sin City. The "Slow Clap" singer even shared videos of her rehearsals, so fans know what to expect. Gwen continues to show that age is nothing but a number and that she's still got it.
View this post on Instagram
No Doubt singer looks younger than ever
Gwen Stefani may feel her age these days, but she still looks like her younger self. She was spotted leaving a private jet in Los Angeles on Monday, September 7. The "Let Me Reintroduce Myself" singer wore a red plaid flannel shirt with distressed jeans and checkered vans. Gwen accessorized her look with baby blue sunglasses and a high ponytail.
She has been traveling non-stop amid the coronavirus pandemic. Gwen previously shared her concerns that she had about Blake after his return to touring. In a series of clips posted to her Instagram Stories, she wondered if all the touring would come to an end soon. Concerts and events have been canceled in light of the pandemic, especially with the news of the Delta Variant.
Check back with Country Music Alley for more news on Gwen Stefani.