That's what friends are for! Here's how country icon Dolly Parton is helping Loretta Lynn raise funds for flood recovery.
Loretta Lynn's hometown devastated by floods
In late August, devastating floods hit Humphreys County in Tennessee. The county is home to Loretta Lynn and her famous Ranch. The flooding left the ranch property severely damaged and took the life of the long-time foreman Wayne Spears, who was caught in the floodwaters.
After seeing such destruction and loss of life, Loretta Lynn rallied her famous friends for a benefit concert.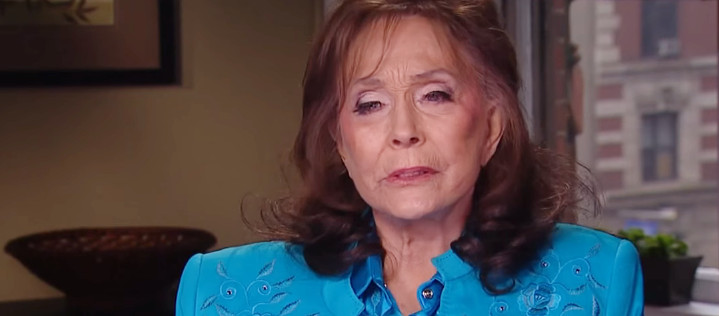 Reba McEntire pays tribute to country music icon, 'Sure do love this woman'
Loretta Lynn's got friends in high places! Just months shy of her 90th birthday, the singer wasn't going to sit back while her hometown was in duress. The feisty icon gathered some of her close and famous friends for an all-star benefit concert.
Garth Brooks and Trisha Yearwood were among the first to sign on for Loretta Lynn's Friends Hometown Rising. Other names on the roster included Luke Bryan, Keith Urban, and Reba McEntire.
The concert was at the Grand Ole Opry House on September 13, 2021. Streaming live on social media and the Circle TV channel, almost $1 million dollars was raised to help Tennessee recover from the deadly floods.
Reba took to her Instagram recently to share a tribute to her long-time friend. The "Fancy" singer posted a throwback photo from the '80s of her and Loretta. "I sure do love this woman," she wrote in the caption.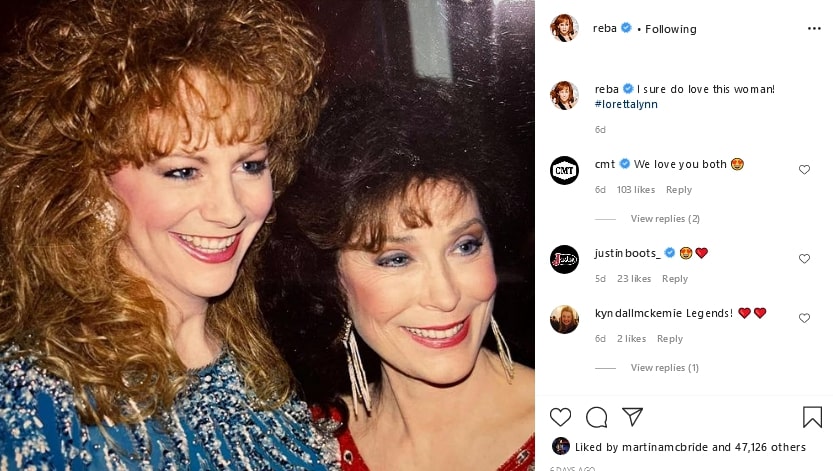 It turns out a lot of people feel the same way about Loretta Lynn.
Dolly Parton lends a hand to 'true friend' Loretta Lynn
Dolly Parton couldn't appear at the Hometown Rising benefit, but she did reach out to help. Loretta Lynn shared a news article on her Facebook about Dolly's contribution. The local Tennessee news station's piece reveals that more money is coming for the flood relief fund.
Reportedly, attractions in Pigeon Forge owned and operated by Dolly Parton will donate some of the ticket sales from the weekend of October 2nd to the United Way of Humphreys County. The money from the benefit concert also goes to the charity.
The outlet notes that Dolly Parton credits Loretta as being one of the first to help out when Sevier County (also in TN) wildfires in 2016. She's simply repaying her friend's kindness by offering a helping hand.
Loretta gave a shout-out to "true friendship" after seeing Dolly's sweet gesture. She encouraged her followers to "Stop right now and call or text a true friend" to give thanks.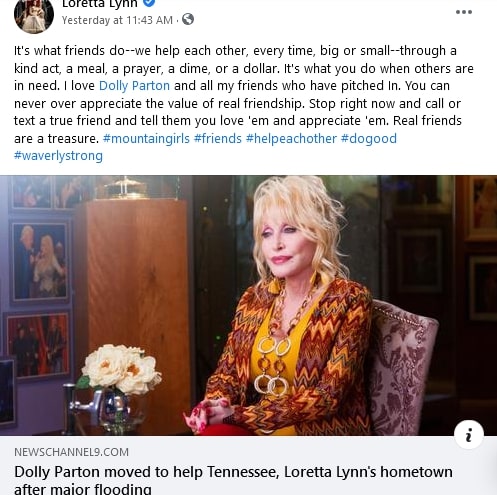 Bookmark Country Music Alley for more news on your favorite country stars.
If you're interested in donating to the flood relief fund, you still can by clicking here.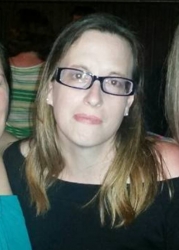 Latest posts by Jennifer Havener
(see all)