Today, GAC (Great American Country) Network announced that actors Trevor Donovan and Merritt Patterson would star in their original Christmas movie, Jingle Bell Princess.
Fans know Donovan from his role as Teddy Montgomery on the television series 90210. Canadian actor Patterson played Olivia on the Pretty Little Liars spinoff Ravenswood.
GAC Family sent Country Music Alley the latest on their Christmas movie slate today, as GAC Family's original movie Jingle Bell Princess stars the two actors and premieres on December 4 as part of GAC Family's "Great American Christmas" franchise.
About the film Jingle Bell Princess
The setting is Downeast, as we head to Maine for this romantic and sweet Christmas yarn.
An actual princess has some mechanical issues and is temporarily grounded.  Does she have time for a lobster roll? It is Christmas time in Maine which means snow, quaint scenery, and lots of Christmas lights near the ocean.  With the crew distracted attending to the repair, Princess Amelia deplanes to walk through a magical Christmas tree lot near the airport perimeter.
Soon she crosses paths with a man named Harley and his charming dog, Storm. In a classic case of mixed communications and crew failure to secure the royal package—being Amelia—she learns the plane was repaired and then took off without her on board. Someone is getting fired.
Making matters more complicated, now a massive New England-sized snowstorm sets upon the area, and all air traffic in and out of Tucker, Maine, comes to a halt.
All of these events mean Amelia may miss Christmas in her father's kingdom. However, this snowbound royal catastrophe turns into an unforgettable holiday as Amelia is invited to the home of airline employee Annie Cutler and her handsome son, Sam (Donovan).
The classic tale of two classes emerges as Sam is a commoner. She's a proper royal. Still, this Christmas and Amelia's unlikely cute meet during the rush of the holidays may be a hidden treasure for this momentarily abandoned princess.
The creatives behind the film
Jingle Bell Princess is adapted from His Jingle Bell Princess by author Barbara Dunlop.
Executive producers of Jingle Bell Princess are Brad Krevoy, Amanda Phillips, Eric Jarboe, Amy Krell, Vince Balzano, Susie Belzberg Krevoy, and Kathy Ceroni.
The producer is David Anselmo. Supervising Producers are W. Michael Beard and Michael Shepherd. Associate Producers are Kelly Martin and Kaitlyn Greenough.
Don McBrearty directs from an original screenplay by James D. Hughes and Blaine Chiapetta.
GAC Family (formerly Great American Country) launched on September 27 under the ta" line "Stories Wel" Told" and features family-friendly, holiday-themed movies and series that celebrate American culture, lifestyle, and heritage.
Jingle Bell Princess premieres on November 26 at 8 p.m. ET/PT on GAC.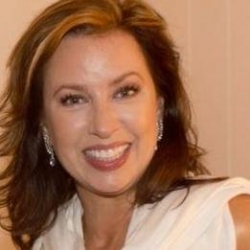 Latest posts by April Neale
(see all)