Kelly Clarkson made a surprise announcement. In October, the daytime talk show dropped her new album, When Christmas Comes Around. She's not done celebrating the holiday season yet. She has another Christmas surprise up her sleeve.
The 2021 album is the follow-up to her 2013 Christmas album, Wrapped in Red. She was also featured on Pentatonix's 2018 album, Christmas is Here! The American Idol winner has cemented herself as the Queen of Christmas. Now, Kelly is expanding on that with her latest plans. Read on to see what the singer has up her sleeve.
Celebrates Christmastime in October
Last month, Kelly Clarkson dropped her new album, When Christmas Comes Around… She's celebrating her favorite holiday a few months early. The singer is not letting anyone get in the way of that, even her ex-husband, Brandon Blackstock. The album is not your typical Christmas album.
In fact, she takes shots at her ex, including on the lead single, "Christmas Isn't Cancelled (Just You)," which she dropped in September. It's packed with covers of classics and original songs. On October 15, Kelly Clarkson premiered the album on streaming services. It includes standout classics like "It's Beginning to Look a Lot Like Christmas" and "Santa Baby."
She also collaborates with fellow The Voice coach Ariana Grande and country star Chris Stapleton. Leading up to the album's release, Kelly teased the songs on Instagram. Fans were excited that they finally got to hear the new tunes. Now, it's out in full, if you want to celebrate Christmas early as well.
Some of them have been asking for live versions of the songs. They've taken to social media to share some of their favorites from the new Christmas album. They hoped that they would see Kelly and Ariana perform together again. Their wishes are coming true since the songstress returned to Instagram to make a special announcement.
Kelly Clarkson shares her surprise
The rumors are true! Kelly Clarkson is having her own holiday special. On Thursday, November 4, the "Behind These Hazel Eyes" singer announced that she will host the Kelly Clarkson Presents: When Christmas Comes Around "holiday spectacular." The feature will include guest performances from Amy Poehler, Ariana Grande, Jay Leno, Leslie Odom Jr., Melissa McCarthy, and the man himself, Santa Claus!
Kelly Clarkson made the announcement via her Instagram page. She shared a photo of herself from the set of the show, in which she wore a dramatic evening gown. The show will also feature "everyday heroes" who will she surprise with "life-changing" moments.
"People celebrate the holidays find different ways and that is the inspiration behind the original songs and the curated classics that are featured in this special," Kelly Clarkson wrote in her post. "No matter what your heart is feeling this holiday season, I hope that this hour brings you joy and happiness exactly where you are."
The special will include both classic Christmas songs and new songs from her new album. Kelly Clarkson Presents: When Christmas Comes Around will air on Wednesday, December 1 at 10 p.m. ET on NBC.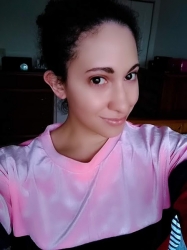 Latest posts by Chanel Adams
(see all)