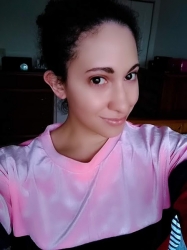 Latest posts by Chanel Adams
(see all)
As Country Music Alley previously reported, Kelly Clarkson is collaborating with country singer Chris Stapleton. The two recorded a duet for her new Christmas album When Christmas Comes Around. It's the follow-up to her 2013 album, Wrapped in Red. Kelly has been busy teasing new music on her Instagram page.
Fans dubbed her as the new Queen of Christmas. She declared it's Christmastime with her new project even though Halloween hasn't come yet. Kelly previously shared a clip of her duet with Chris on an Instagram post and now the song is finally out. Read on to learn more about the details of the song.
Kelly Clarkson and Chris Stapleton harmonize on "Glow"
Kelly Clarkson and Chris Stapleton's duet is finally out. When Christmas Comes Around dropped on Friday, October 15. Their new collaboration will surely put a smile on your face. The country stars teamed up for their new song, "Glow," which shows them trading verses throughout the track.
Fans can check out the song on YouTube and all streaming music services. Kelly spoke to Bobby Bones on The Bobby Bones Show about their collaboration. She revealed how it all came to happen. Kelly was so excited about the song that she couldn't wait to share it with him.
"I have the funniest story that I actually haven't told anyone yet, but I was so excited and so excited [that] he turned it around so fast, and I honestly wasn't expecting him to say yes," Kelly Clarkson said. "I just feel like everybody asks him to sing, and I get really nervous asking because I've been turned down a lot with singing with people. So, I got really nervous, but I was so excited he said yes, and like I said he turned the music around so quickly and his voice is just magical."
The singers sound soulful on the magical duet
Kelly Clarkson said she "sounded like a child on a rollercoaster" when she made the video. Then she sent to Chris Stapleton, who joined her on the soulful track. She's "so happy" with how it turned out "because it just sounded so amazing." Kelly even shared a video of herself reacting to their duet.
At first, she "didn't hear" back from him. Kelly wondered if it made her look like a "stage five clinger." The Texas native admitted that she's a huge fan of the musician and his vocals.
"When we were both at some event, and I think he was playing with The SteelDrivers, and I was like 'who the hell is this' and since that moment I remember sitting at the Grand Ole Opry [in my] seat and going 'oh my God this guy is like one of the most talented singers I've ever heard,'" Kelly Clarkson recalled. "I'm so excited, I mean, he's had such an amazing career and also that his amazing voice is harmonizing with mine."
It's the first time that the two collaborated. However, they were both featured on the Trolls 2 soundtrack in March 2020. Aside from Chris Stapleton, Kelly also recorded a duet with Ariana Grande and Brett Eldredge. This is her ninth studio album since the release of 2017's Meaning Of Life.
What are your thoughts on Kelly Clarkson's duet with Chris Stapleton? Have you listened to her new Christmas album? Sound off below in the comments.
Check back with Country Music Alley for more news on Kelly Clarkson.