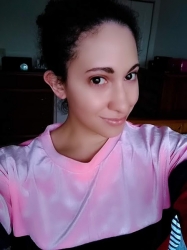 Latest posts by Chanel Adams
(see all)
Some are speculating whether Carrie Underwood gave Luke Bryan the stink-eye at the 2021 CMA Awards. Country music's biggest night is back and everyone is back together again. There are no more virtual performances or Zoom acceptance speeches. It's also the first time in about 20 years that a country artist hosted solo at the event.
Normally, Carrie would host alongside fellow country musician Brad Paisley. However, Luke hosted all by himself this year. He also cracked some jokes about the current state of the world and pop culture events. Read on to see what Luke said to make Carrie react that way.
Did Carrie Underwood diss Luke Bryan?
According to Page Six, Carrie Underwood gave Luke Bryan some major side-eye at the 2021 CMA Awards on Wednesday night. The American Idol host cracked a joke about Aaron Rodgers lying about his vaccination status. The 45-year-old opened the show by assuring everyone that the Country Music Association is "following all the health protocols to keep everyone safe" amid the ongoing coronavirus pandemic.
Luke Bryan wore a dark blue velvet blazer. He paired the snazzy look with a black T-shirt and matching jeans. The musician leaned on a stool as he scanned the room.
"It is so great to be here with all of my fellow artists — tested and together," Luke said before adding, "Or immunized? Who is it? Just playing."
The camera panned over to Carrie Underwood who barely cracked a smile. It looked like she gave a side-eye. However, she could've been reacting to someone near her. The 38-year-old country star had her poker face on, as she never speaks publicly about politics.
This comes after Aaron Rodgers admitted that he lied about his vaccination status. The 37-year-old tested positive for COVID-19. He ultimately admitted that he never got the vaccination. This caused a strong reaction from both sides of the issue.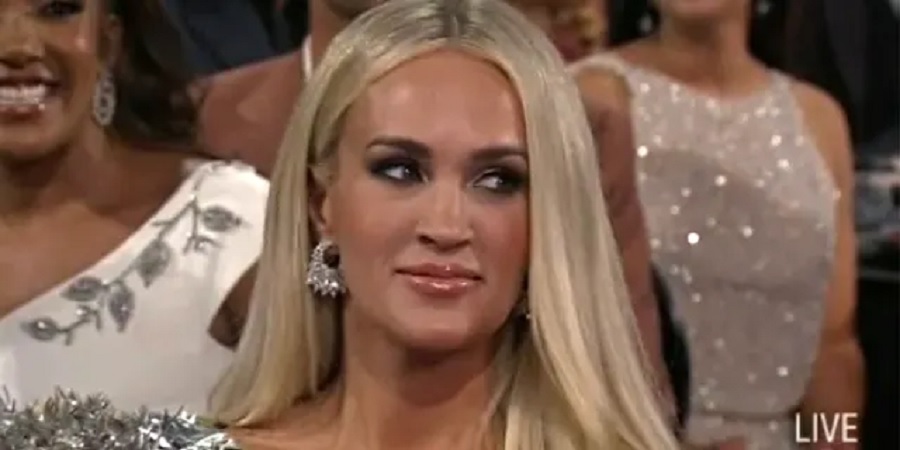 Mike Fisher showed support for Aaron Rodgers
Carrie Underwood seemingly "liked" her husband Mike Fisher's Instagram post. The former hockey player shared his support for the Green Bay Packers quarterback. He also fired back at the vaccine mandates. The 41-year-old feels that Americans have "the freedom to choose what we put in our bodies and the freedom of conscience."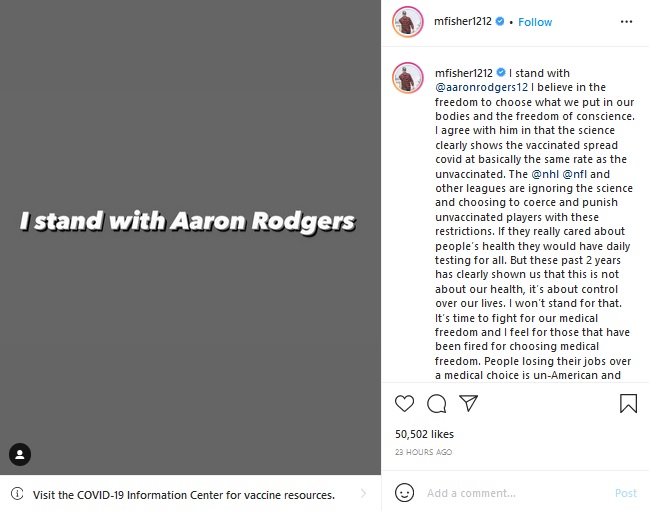 He concluded his message by asking his followers to "fight for [their] medical freedom" and "stand up now before it's too late." Carrie Underwood recently came under fire for "liking" a tweet against the "abusive" mask mandate in Nashville schools. However, she has kept quiet about her political beliefs. She married the Canadian athlete in July 2010 and shares two sons with him.
What are your thoughts? Do you think Carrie Underwood was giving Luke Bryan the 'ole stink-eye? Sound off below in the comments.
Check back with Country Music Alley for more news on Carrie Underwood.