Two months after Carrie Underwood support an anti-mask tweet, her husband Mike Fisher shared his outrage for vaccine mandates. The couple is stirring up controversy with their social media posts. Normally, Carrie and her husband are quiet when it comes to political issues. The most political that the American Idol alum has gotten was when she spoke out in favor of LGBTQ rights.
As fans know, the duo is staunch Christians. So, that only suggests that they might have right-leaning beliefs. The NHL player broke his silence to slam the vaccine mandates, which are sweeping the country. He feels that "It's time to fight for medical freedom."
Mike Fisher slams vaccine mandate
Aaron Rodgers made headlines this week when he admitted he didn't get the COVID-19 vaccine. This comes after the NFL star tested positive for the virus. Still, that didn't stop him from getting that extra level of protection. Carrie Underwood's husband Mike Fisher shared his support for the quarterback.
He feels that people should have the right to choose what goes into their bodies – especially when it comes to the COVID-19 vaccine. He argued that firing people for refusing to get vaccinated is "un-American and unacceptable." Mike Fisher took to Instagram to share his criticism against the vaccine mandate. Earlier this week, Aaron Rodgers caught COVID-19 after suggesting he was vaccinated.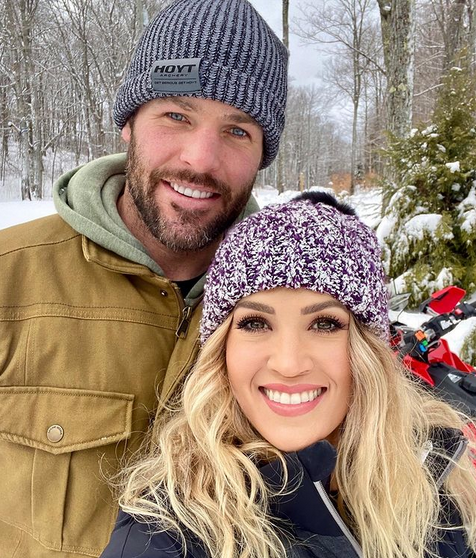 "I stand with @aaronrodgers12 in the freedom to choose what we put into our bodies and the freedom of conscience," Mike Fisher wrote on Instagram. "I agree with him in that the science clearly shows the vaccinated spread covid is basically the same rate as the unvaccinated."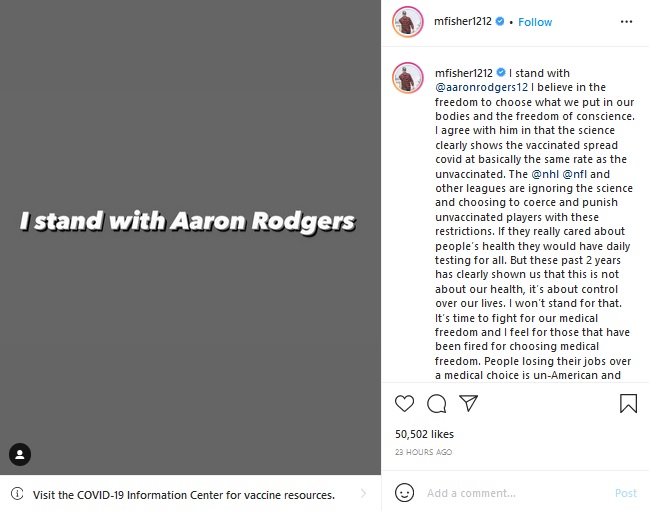 But that's not all. Mike also slammed the NFL and NHL for the way they handled the vaccine mandate. However, his claims that both vaccinated and unvaccinated people spread the virus at "basically the same rate" are found untrue. NBC News cited a study from the University of Oxford that shows those who come across a breakthrough case of COVID-19 were between 36 and 65 percent less likely to contract the virus than someone who comes into contact with someone who was unvaccinated.
Carrie Underwood doesn't support mask mandates
In August, Carrie Underwood made headlines for a controversial tweet she supported on social media. She hinted that she supports the anti-mask mandate. She "liked" a tweet from conservative Matt Walsh who expressed his concerns at the Metropolitan Nashville Board of Public Education. He called the mask mandate "abusive" when it comes to children.
Carrie Underwood was caught liking his polarizing tweet. Some of her fans took notice and shared their distaste. They vowed never to listen to her music again. Others didn't care to find that she was against the mask mandate. They had a problem that she supported Matt Walsh.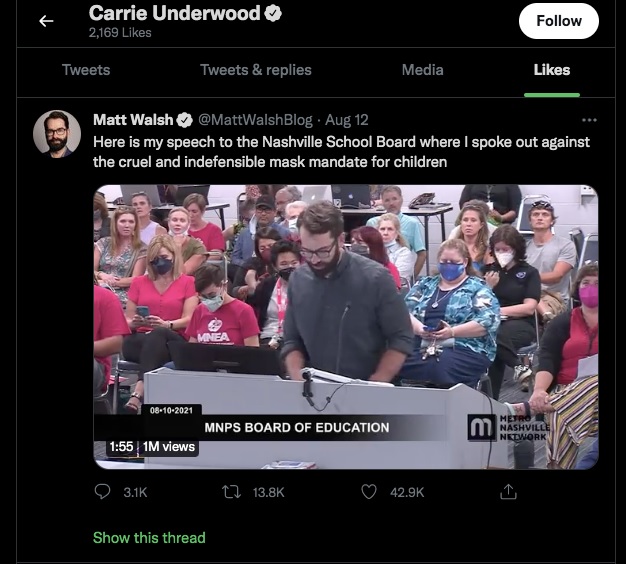 Country star Jason Aldean supported Carrie for speaking her mind, even though she didn't write the tweet herself. Mike has been more outspoken in recent months. Carrie has not shared her thoughts on the vaccine mandate. Also, the couple hasn't revealed whether either of them received the COVID-19 vaccine.
Check back with Country Music Alley for more news on Carrie Underwood.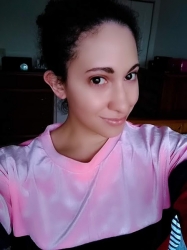 Latest posts by Chanel Adams
(see all)