Kelsea Ballerini may be declared the new Queen of Christmas. As Country Music Alley previously reported, that honor went to Kelly Clarkson. But even some fans think Mariah Carey should retain that title. Kelsea goes over the top when it comes to the holiday season.
While she's known for her country songs, she's also known for her love of Christmas. She will sometimes bring holiday cheer through television specials, concerts, and shows. Kelsea performed "Santa Baby" during the Live from CMA Country Christmas in 2020. The country singer was decked out in a little red number as she performed on her guitar.
Kelsea Ballerini keeps her Christmas decorations up all year long
During CMA's 2017 Country Christmas TV Special, Kelsea admitted that it's common for most people from Eastern Tennessee to leave their holiday decorations all year long. Not only does she leave the tree up, but she also leaves the holiday lights up as well. She also shared some of her "embarrassing" family traditions. Her mom loves to get her kids into the holiday spirit as well.
"Every Christmas Eve, my mom gets us obnoxious, embarrassing pajamas, and then we all have to stay in (them), even if we leave the house," Kelsea Ballerini admitted in 2016. "So we'll go grocery shopping in them, go to church services in them, in our little onesie Christmas pajamas."
In 2019, Kelsea said that her mom takes her job of picking out onesies seriously. To her, "it's like her bread and butter, and she loves it." But even Kelsea gets embarrassed by some of the styles she picks with each passing year. She has a feeling that her mom already has them picked out this year.
The more embarrassing they are, the better it is. But that's what makes the holidays fun. Some people love to wear ugly Christmas sweaters, others love embarrassing onesie pajamas. It's safe to say that her mom's habits have rubbed off on her.
Got ready for Christmas in October 2021
Her love for Christmas has extended into her adulthood. In an October 2021 TikTok video, Kelsea told her followers that the Christmas tree is already up. In fact, she kept it up all year long. She captioned the video: "why am i like this. but anyway, happy holiday szn [SIC]."
"We're heading upstairs and, what is that? Couldn't be the Christmas tree from last year still up…But it is," Kelsea Ballerini said. "It's (still) decorated, it has the lights on, it's still ready to go. In fact, it's even plugged in."
In a 2017 interview, the "Half of my Hometown" singer admitted that "it's never too early [to listen to Christmas music]. It's a year-round event." She doesn't even get sick of Christmas music. While Kelsea loves to listen to old school classics, she admitted that her favorite is Jessica Simpson's 2004 Christmas album, Rejoyce. For now, fans can listen to Kelsea's renditions of classic songs like "Have Yourself a Merry Little Christmas" and "My Favorite Things" on Spotify.
Check back with Country Music Alley for more news on Kelsea Ballerini.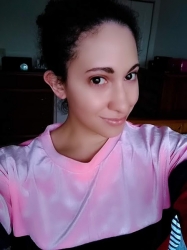 Latest posts by Chanel Adams
(see all)