Kelsea Ballerini brought her fans some good luck. The country singer celebrated St. Patrick's Day in a big way. On Thursday, March 17, she took to Instagram to share a bikini photo with her 2.7 million followers. It has some of her fans seeing green with envy.
The 28-year-old looked gorgeous in the green swimsuit. The two-piece number featured halter-style straps and high-waisted bottoms. It also features ties around the neck and lower back area. Kelsea styled her signature blonde hair in waves.
Check out the photo for yourself and see the reaction to her latest Instagram post.
Country crooner stuns in green bikini
Kelsea Ballerini shared the bikini photo on Thursday. She showed off her butt as she looked at the camera. She also put her round bottom on display. The songstress paired her look with silver dangle earrings.
She wore her wavy blonde hair in pigtails. The "Half of My Hometown" singer looked at the camera with an open-mouth expression. She wore very little makeup aside from mascara, groomed eyebrows, and pink lipstick. The photo looks like it was shot in a forest.
"happy st paddy's day from this magical forest i'm living in today (go order this green @aerie swimsuit rn for good luck 🍀) [SIC]" Kelsea Ballerini captioned the post. 
She encouraged her fans to purchase her bikini from Aerie. She's hoping that they can get some of the luck she's gotten while wearing it. Check out the photo for yourself here and let us know your thoughts. At the time of this writing, the picture received over 50,000 likes and hundreds of comments.
Country singer Shane Mcanally wrote, "Well, good morning." Musician Abby Anderson commented, "Hot damn," while Karen Fairchild added, "Ok. Hottie." Stevie Mackey wrote, "Yessss summer snack!!!" and Pretty Little Liars star Lucy Hale complimented, "This cute!!!!!!"
Fans fall in love with Kelsea Ballerini's look
It wasn't just Kelsea Ballerini's famous friends who were thinking this way. Fans took to the comment section to share their thoughts as well. Most of them complimented her on her beauty, while others shared some appreciation for her festive post.
"☘️Top of the morning to you.☘️"
"Happy St Paddy's Day. 💚💚💚"
"Happy st.paddy's [sic] day Kelsea!! I hope you have the day. 💚💚"
"Beautiful Kelsea!🍀"
"Gorgeous in green. 💚💚"
Kelsea Ballerini tries to stay in shape, even when she's on tour. In an interview with Who What Wear, she talked about her love for exercise. It's important for her to keep moving even when she's off the stage. Kelsea also noted that her "breath support" is better when she works out.
"Usually, I'll try to go to a gym or near the venue, I'm performing at," Kelsea Ballerini said. "Sometimes I'll FaceTime with my trainer, and we'll do a session that way too. It kind of just depends on where I'm at. I'll try to sneak in little workouts a couple of times a week."
What are your thoughts on Kelsea Ballerini's bikini photo? Does it inspire you to work out as well? Sound off below in the comment section. Check back with Country Music Alley for more news on Kelsea Ballerini.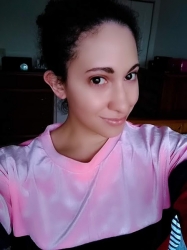 Latest posts by Chanel Adams
(see all)