Miranda Lambert teased an unreleased song from her upcoming album. The country singer is finally releasing "Actin' Up," which is featured on her new album, Palomino. The studio album is the follow-up to her 2021 release, The Marfa Tapes, which she worked on with Jon Randall and Jack Ingram. Miranda released her first-ever acoustic album, which she worked on in the small desert city.
Fans just found out they're one month away from her eighth studio album. She's been teasing the new project, which will drop on April 29. So far, Miranda released two new singles called "If I Was a Cowboy" and "Strange." Now, she's set to debut the unreleased track at the upcoming C2C Fest.
Miranda Lambert to release a studio version of the unreleased track
Just weeks ago, Miranda Lambert performed the song "Actin' Up" at the C2C Fest. She will drop the recorded version of the song soon. The singer-songwriter teased the new song on Instagram. She also promised her fans that more postcards are on the way.
As Country Music Alley previously reported, Miranda Lambert wanted to send her fans postcards. She encouraged them to join the mailing list so they can receive a personal postcard from their favorite singer. Fans had a feeling this marked the start of a new album era and they were right.
"One month till my new album 'Palomino' is out… so another postcard is headed to some of y'all with a clip of the song that inspired the album title," Miranda Lambert wrote in the Instagram post. "PS: so many of y'all signed up for the first round of postcards that we're pulling from the same list to send this batch."
She included a clip that featured a teaser of the song. Fans are looking forward to the full studio version of the song. Others enjoyed hearing the song live at Miranda's show. Check out the full performance of "Actin' Up" at C2C Fest in the video below and listen to the studio teaser here.
Miranda Lambert announced new album Palomino 
Miranda Lambert's first solo album since her 2019 release Wildcard is coming out this spring. Earlier this month, the singer announced her new album. She also released the video for her new song "Strange." Last year, she released The Marfa Tapes, which was a collaborative project with Jack Ingram and Jon Randall.
The album is nominated for Best Country Album at the 2022 Grammy Awards. It also received critical acclaim and praise. Miranda Lambert also reunited with the Pistol Annies to release their first-ever Christmas album, Hell of a Holiday. However, fans are looking forward to getting solo music again.
What are your thoughts on Miranda Lambert's unreleased song? Do you think the studio of live version? Sound off below in the comment section. Check back with Country Music Alley for more news on Miranda Lambert.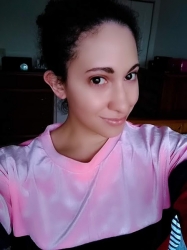 Latest posts by Chanel Adams
(see all)