Miranda Lambert gave her fans a glimpse into her creative mind. The country singer admitted that she needed to read this piece of advice. Earlier this week, she took to her Instagram Stories to share an inspirational quote with her 4.3 million followers. Vince Gill talked about the "awkward time" that artists face when "creative brains are being sorely mistreated."
Musician Courtney Patton shared the original post on Instagram. The "Bluebird" singer added, "I need a little fire today. Preach, Vince." Check out Miranda's post along with the original quote.
Miranda Lambert is feeling fiery after reading this quote
The full quote reads: "The devaluation of music and what it's now deemed to be worth is laughable to me. My single costs 99 cents. That's what a [single] cost in 1960. On my phone, I can get an app for 99 cents that makes farts noises — the same price as the thing I create and speak to the world with. Some would say the fart app is more important. It's an awkward time. Creative brains are sorely mistreated."
Artists like Miranda Lambert are struggling to make money from their art. However, it affects more indie artists as streaming and digital sales continue to override physical sales. Taylor Swift pulled her albums from several streaming platforms over royalty payments. In 2018, she landed a deal with Universal Music Group that the record company will share its proceeds from the sales of its Spotify equity to artists.
In early 2021, Miranda released The Marfa Tapes. It received a nomination for Best Country Album at the Annual Grammy Awards. She wanted to do something sonically different. The "Little Red Wagon" singer recorded the album with the help of her collaborators Jack Ingram and Jon Randall. They recorded the music outdoors in the Texas desert.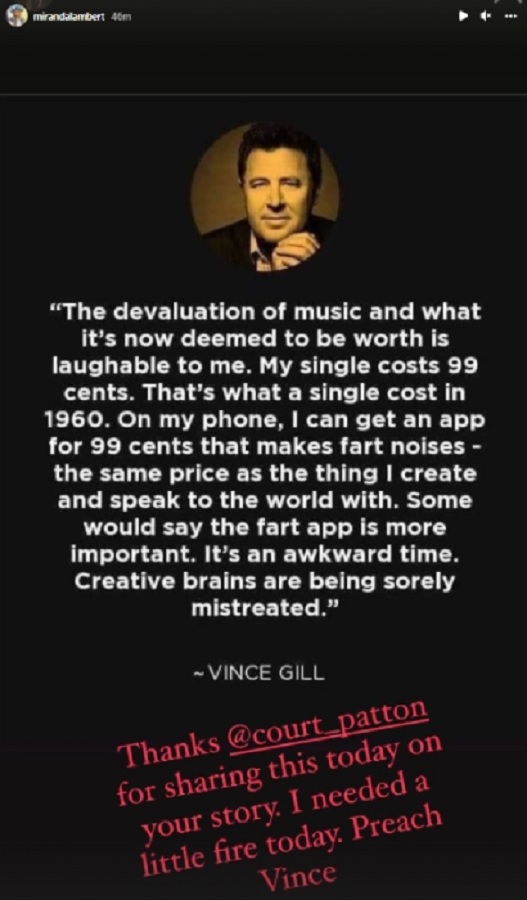 The Marfa Tapes documentary film
Miranda Lambert just premiered her new documentary: The Marfa Tapes. The singer is giving fans another glimpse into her creativity. The Marfa Tapes took place at a campfire, complete with the sounds of nature, which she calls the "fourth voice." In an interview with Country Living, the singer explained why she wanted to create the visual element with the accompanying movie.
"We wanted to invite listeners to our Marfa experience both sonically and visually," Miranda Lambert said. "Spencer Peeples directed the film, and he was able to capture the breathtaking beauty of the landscape and environment that inspired and continues to inspire the music we create."
Miranda Lambert drops new single "If I Were A Cowboy"
She previously told fans that her new album is "not far away." Miranda Lambert released her new single "If I Were A Cowboy." People Magazine got a behind-the-scenes look at her new music video. It includes her husband Brendan McLoughlin. Of course, she wears her Idyllwind clothing in the video.
What are your thoughts on Miranda Lambert's creative process? Do you like her new song? What is your favorite album? Sound off below in the comment section.
Check back with Country Music Alley for more news on Miranda Lambert.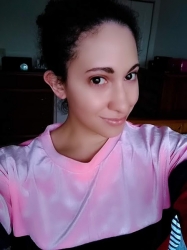 Latest posts by Chanel Adams
(see all)