Miranda Lambert is not here for overrated Christmas music. She knew she wanted to do something "fresh" for the Pistol Annies' holiday album. In October 2021, the group reunited to release their new album, Hell of a Holiday. The trio even collaborated with an unlikely artist to make it happen.
Pistol Annies is comprised of Angaleena Presley, Ashley Monroe, and Miranda Lambert. Earlier this year, the group shocked fans when they announced that they're getting back together. They briefly reunited to release their first-ever holiday album.
There was just one little problem. Miranda really hates holiday music. She especially doesn't like overrated Christmas songs. So, how were they ever going to make it work?
Miranda Lambert reveals how Pistol Annies got their holiday alum right
Ashley and Angaleena would try to convince Miranda into recording a holiday album, but she was not interested. In an interview with People, she admitted that she doesn't like overrated holiday music. She couldn't come up with a vision for the album. Yet, she knew she wanted something "fresh."
Miranda listened to Sia's "Everyday is Christmas" and something inside her changed. It was one of the rare holiday songs she liked. Miranda knew they had to make a sound like that. She didn't want to cover traditional holiday songs that have been done before.
"It was fresh," Miranda Lambert told People, as quoted by CMT. "I just get tired of the same old things and hearing the same Christmas songs over and over. That one is like, 'Oh, fresh and (it's) originals. It opened my heart a little bit to it."
Hell of a Holiday features 10 original holiday songs and three covers — "Auld Lang Syne," "If We Make It Through December," and "Sleigh Ride." Miranda did allow for a few covers to make it on the final cut. Not only is the music fresh but so is the album cover. All three ladies pose in bold gowns against a stain-glassed window. You can tell it's not your typical holiday album.
Hell of a Holiday is dedicated to the weirdos this holiday season
Miranda said she wanted to make this album different from others. She admitted that it has a "tinge of realness and weirdness" that you won't find elsewhere. Even the stories behind the songs are unconventional. For example, "Harlan County Coal" is about an alcoholic spouse who takes off on his family.
Meanwhile, "Believing" has an underlying message about holding onto the magic of Christmas. It's the reason why this song is their favorite on the album. It's dedicated to the misfits and those who can't seem to get out of trouble. It brings some much-needed hope in these times.
"I have like a hundred nieces and nephews, and that's the one they all responded to the most," Angaleena said. "In fact, my little cousin, Charlie, shed a tear, and he's on the naughty list just about every year."
It was harder for them to record the cover songs rather than the originals. Angaleena said it sounded like "nails on a chalkboard" the first few times. Then, Miranda made them her own with that "bluesy thing" she does. When it came to "Sleigh Ride," they looked to The Ronettes version for inspiration but also added their own Pistol Annies touch.
Have you listened to Hell of a Holiday? What's your favorite track from the album? Do you like traditional holiday music? Sound off below in the comment section.
Check back with Country Music Alley for more news on Miranda Lambert.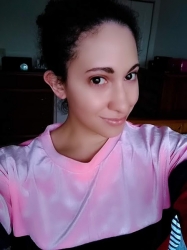 Latest posts by Chanel Adams
(see all)