Gwen Stefani casually showed off her new hairstyle. As Country Music Alley previously reported, she posted a new Instagram Reel. Gwen let her fans know that she's been reading their comments. Ever since she launched GXVE Beauty in March, fans have been wanting to get their hands on the new merchandise.
The ad campaign for GXVE Beauty shows Gwen wearing a red hooded sweatshirt. Fans have been wanting their own ever since. Finally, the new merchandise dropped on Thursday, April 7. It's unlike any other of her merch that they purchased before since it supports her new venture.
Fans were begging for GXVE merchandise
Gwen Stefani is delivering on her promise. She took to Instagram to inform fans that she was listening to them. She noticed that they've been talking about the new GXVE Beauty merch. Some of them couldn't stop talking about the hooded sweatshirts.
Gwen Stefani took to her GXVE Beauty Instagram account to share the Reel. It shows her scrolling through her phone as she reads their comments. The following words flash on the screen: "pov: ur fans are begging for GXVE merch and u gotta deliver." Gwen let her fans know that they can get their hands on the sweatshirts on Thursday, April 7.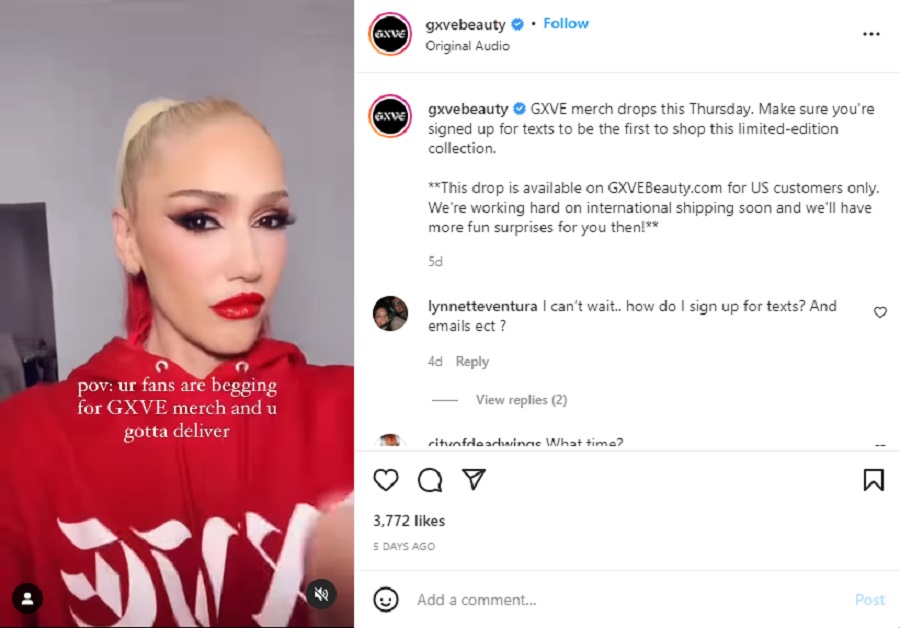 At this time, they're only available to U.S. customers. GXVE is working hard to roll out merchandise worldwide. Most fans were excited to learn about the new merchandise. They took to the comment section to share their thoughts.
At the time of this writing, the GXVE Red Hoodie is currently sold out on the website. It costs $60 and comes in S-2XL. Also, the GXVE Red Sweatpant is also out of stock. It costs $50 and comes in sizes S-2XL. It's no surprise that both of these items are out of stock since fans couldn't wait to get their hands on them. It's unclear when the next restock will take place.
Gwen Stefani shocks fans with a new hairstyle
In case you missed it, Gwen Stefani casually showed off her new hairstyle. She debuted her latest look while making the announcement. Gwen shared the news on Instagram with an all-new red dipped ponytail. This is different from the platinum blonde ponytail she normally rocks.
The singer finished off her look with a full face of makeup. Of course, she was wearing her signature red lipstick. Gwen's manicured fingers were decorated in black-and-white designs. Some fans noticed Gwen Stefani's hairstyle and had a lot to say about it:
"OK BUT YOUR HAIR HELLO????? 😍😍"
"I LOVE THE RED HAIR.😍❤️"
"KAKAKKAJAJA WHY IS THIS SO FUNNY??? BUT YOUR HAIR IS GXVING. 🔥❤️"
In the meantime, fans will have to wait for a restock on the sweatshirt and sweatpants. What are your thoughts on Gwen Stefani's hairstyle? Which look do you like on her the most? Sound off below in the comment section.
Check back with Country Music Alley for more news on Gwen Stefani.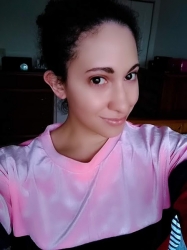 Latest posts by Chanel Adams
(see all)