Gwen Stefani brought her signature red lips to the ranch. The No Doubt singer is enjoying her spring break with her husband Blake Shelton in Oklahoma. The two have been planting up a storm lately. Country Music Alley previously reported that she shared a selfie from the great outdoors.
Oklahoma looks good on her. The songstress was glowing in the sunlight. Gwen also rocked a makeup-free look as she embraced the new lifestyle. She gave fans a tour of their sprawling ranch via her Instagram Stories. Gwen shared a sweet tidbit about their wedding day as she went all out on GXVE Beauty.
Gwen Stefani brings red lips to the ranch
Gwen Stefani shared lots of content from their ranch on her Instagram Stories. On Wednesday, April 13, she walked around the ranch as she shared a major update with fans. The "Slow Clap" singer wore a hunting jacket, which she paired with a trucker hat and her signature red lipstick.
Gwen finished off her look with her gold "GXVE" necklace. Fans are going to wonder if the necklace is part of the new merchandise. So far, she has dropped the hooded sweatshirts and matching sweatpants from her line. There is no other merchandise at the moment.
In her Instagram Stories, Gwen Stefani shared a time six years ago when she convinced Blake to plant wisteria on their ranch. At first, they never flowered and he wanted to rip them out. The wisteria flowered on the year they got married. Check out the photo for yourself below: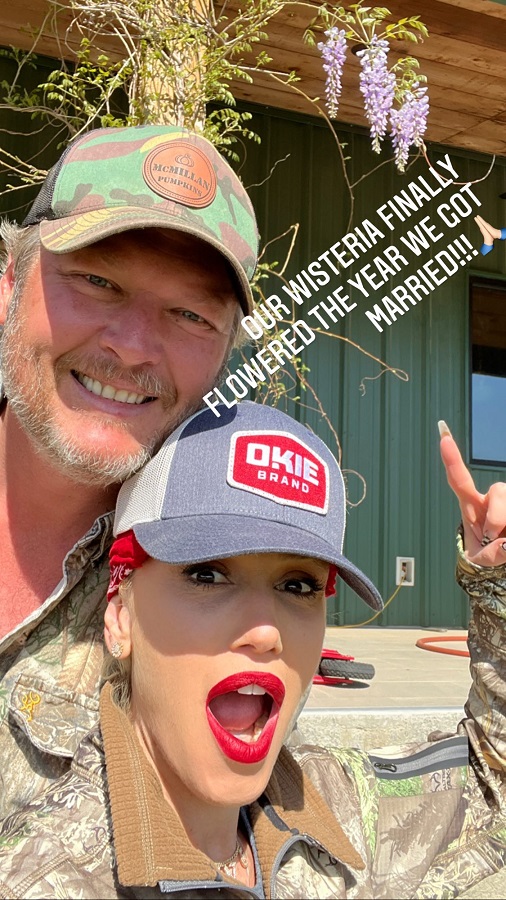 Also, Gwen Stefani wanted to bring her signature look to the ranch. She shared a selfie of herself with the caption, "Red lips on the Ranch." Of course, she tagged her beauty brand, GXVE Beauty. She also included the red lipstick sticker on her Instagram Story. See that photo below.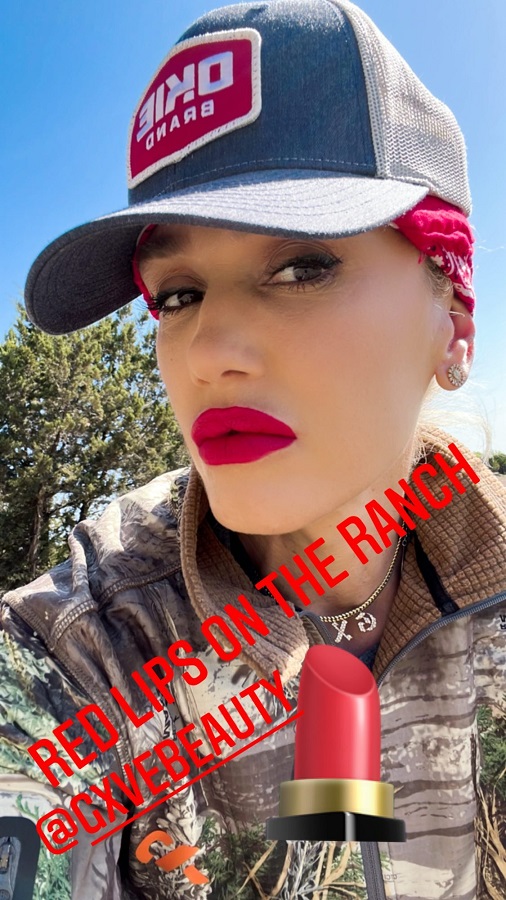 Shared the details of the first year of marriage to Blake Shelton
Last week, Gwen Stefani traveled to Los Angeles to make an appearance on the Ellen DeGeneres Show. She shared the details of her first year of marriage with her husband. The 52-year-old pop star and the 45-year-old country singer tied the knot on the ranch last summer. Gwen showed off her country spirit by showing up to the talk show in cowboy boots.
She revealed that the "marriage itself is just so fun." Gwen added that she is "so into it" and "feels very blessed." Ellen noted that the "two just clicked" when they were first together.
"He's my best friend. We just have so much fun," Gwen Stefani said.
That's when she revealed that Blake traveled back home and is on the ranch "literally tilling the soil." Gwen teased that they're "doing major things" like "gardening." She also teased that it metaphorically has them planning projects together.
"I think about all the different seeds that were planted in my life, these seeds of faith, the seeds of these wild ideas I had that actually came true, and even the one to fall in love with Blake," Gwen Stefani continued. "It's crazy because now I'm gonna go back there and plant so many flowers and they're gonna bloom, it's so exciting."
What are your thoughts on Gwen Stefani bringing red lipstick to the ranch? What do you think of the wisteria flowering on the day they got married? Thoughts on their marriage? Sound off below in the comment section.
Check back with Country Music Alley for more news on Gwen Stefani.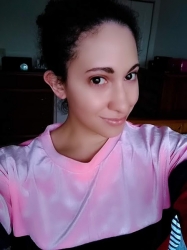 Latest posts by Chanel Adams
(see all)