Miranda Lambert urged her fans "to keep an open mind." This comes amid the unnecessary and harsh comments she received about her weight. As Country Music Alley previously reported, a TikTok video of the singer made the rounds on social media. Male fans took to the comment section to body-shame the songstress. Read on to learn more.
Miranda Lambert fans come to her defense
The country artist was body-shamed for showing off her real body onstage at a concert. A video of Miranda Lambert performing "Drunk (And I Don't Wanna Go Home)" surfaced on TikTok earlier this week. Trolls took to the comment section to throw digs at her looks. Others slammed her for her former marriage to Blake Shelton.
However, Miranda Lambert fans took to the rescue. They said that she looked "happy and healthy" while strutting on the stage. She wore a black graphic T-shirt with denim cutoff shorts, fishnet tights, and red cowboy boots. Fans were ready to clap back at the trolls.
"I like how it's only men commenting about her weight. She looks amazing," one user noted. "Half of the men in the comments would be lucky to find a woman like her," another added.
Even those who aren't normally "fans" of Miranda Lambert took to the comment section to defend her. "Not a Miranda fan but these comments did not pass the vibe check," one TikTok user noticed. "Clicked on a few profiles and y'all really have no room to talk about her looks…" another frustrated user said.
"Weight and looks don't define you. Your heart and how you treat people does," a third chimed in.
Miranda Lambert made it clear that she doesn't care about the cruel comments. In her June 2022 cover story for People, she admitted that she doesn't "give two s***s about people's opinion of me." She only cares about being herself, which is an important message to send to young women.
Miranda Lambert sends an emotional message
Amid the criticism, Miranda Lambert took to social media to send an emotional plea to fans. She posted a video in honor of National Mutt Day. The compilation video saw her playing with different dogs during her visit to an animal shelter. She told her fans to "keep an open mind" when searching for a pet.
"I encourage you to keep an open mind if you're looking for a new pup," Miranda wrote on the clip. "These dogs have a harder time finding homes: pit mixes, senior dogs, big black dogs, dogs with disabilities. They have so much love in them… and they just need us to love them a little bit harder."
Happy #NationalMuttDay! 💖🐶 @MuttNation @thespringpoint #LoveHarder pic.twitter.com/olq0eIH56m

— Miranda Lambert (@mirandalambert) July 31, 2022
Her fans loved the message. "Miranda you have a great heart, thank you for always helping somewhere, and thank you for sharing," one user wrote. "Thanks, Miranda! Your voice helps!" another added.
Miranda Lambert is focused on spreading positivity. She's always been a huge animal lover and supporter of shelters. What are your thoughts on her latest social media post? Sound off below in the comment section.
Check back with Country Music Alley for more news on Miranda Lambert.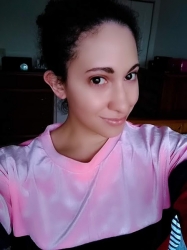 Latest posts by Chanel Adams
(see all)