Latest posts by Tresa Patterson
(see all)
Indisputably, no performer savors the sweat, the surge of a cheering crowd, and shredding on his strings more than Keith Urban. The country music megastar feels all those things and more, now that he's in full performance mode on his Speed of Now Tour.  
Just two months shy of his 55th birthday in October, the "Wild Hearts" songwriter still marvels at making new fans, as noted by the Daily Press of the Virginian Pilot online. Keith Urban's fan base spans across the decades of his career, from seniors to teens and every demographic in between. Like other superstars across country music, Keith has his share of celebrity adorers, too. One of those happens to be Emma Roberts, as Yahoo News confirms.  As it turns out, the reigning queen and forever CEO Of Keith Urban's fan club, his wife, Nicole Kidman, seems abundantly pleased by The Winning Season's star's support. The Oscar-winning actress and nominee for Being The Ricardo's even offers the supreme words of simpatico!
Emma Roberts is a full-on fan-girl for Keith Urban
Openly sharing her prime vantage point in seeing her favorite performer, anyone sees that this is no put-on for Emma Roberts.  Her social media share shows the enthralled, ponytailed star under the spell of Keith Urban under shades of blue from the "Blue Ain't Your Color" singer's stage. The shot shows a perfect view of Roberts' raised hand with Urban gazing above her shoulder.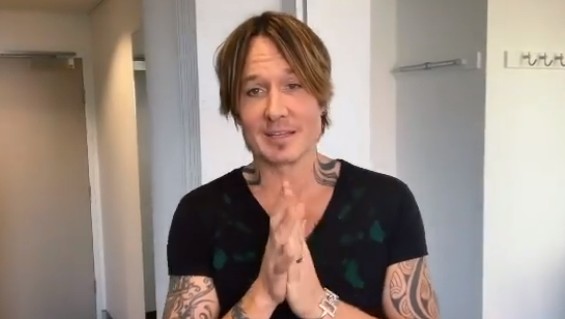 As everyone knows, Nicole Kidman's mystical blue eyes gaze magically into her husband's. Blue is also the color of the heart that Emma Roberts chose for her caption of "I <3 #keithurban." Whether it was the unbridled enthusiasm of the moment or the purity of her caption, something reached out to Keith Urban's Mrs.  She replies in an equally tender fashion.
A sweet reply on many levels
"I know how you feel," Kidman responds. Again, those words could respond to the effect Keith Urban generates as a performer within any passionate fan. Nicole Kidman consistently serves as her man's fire-starter when it comes to passion, as Country Music Alley captured in a January feature. Kidman proudly plays Keith Urban's ultimate hype girl on the front row of any awards show. Her words carry a wistful tone, too, of missing hubby while he thrills fans on the road.
Richard Marx relates that his friend Keith Urban can be fickle about a song
Undoubtedly, pop songwriting phenoms, Richard Marx, and Keith Urban conjure songwriting success in their own ways. However, in talking with People, Marx discloses that his Aussie mate has a habit of quickly going cold about a song.
"When we write a song, Keith is always over the moon about it on Monday, and by Wednesday, he's not into it anymore," Marx candidly describes. He relates that "a bipolar thing" seems to happen quickly whenever the pals write together.
Still, songs like "Better Life," "Long Hot Summer," and "Everybody" stand as proof of the partners' creative chemistry. For his part, though, Richard Marx can't understand why Keith Urban threw in the towel early with the song, "One Day Longer."
"I'm really hungry, and I hate everything when I'm hungry," Richard recalls Keith Urban complaining during the session to tweak the tune. Well, time went on, and now, Keith admits he has "no recollection" of the song. Richard Marx sent Urban his own finished version of "One Day Longer," which he includes on his Songwriter album, set for release on September 30.
A good song is a good song, even if it escapes the memory of one of its composers. Keith Urban and Richard Marx have both been part of unforgettable songs, and Keith leaves fans with memories and moments from the stage that live forever.