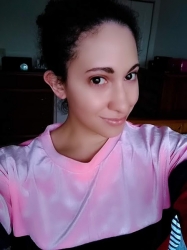 Latest posts by Chanel Adams
(see all)
Carrie Underwood is still "flying high" from the 2022 AMAs. The ABC televised event took place on Sunday, November 20. The country superstar took to the stage for her most iconic performance yet. Carrie took a page out of pop star Pink's book.
She wowed fans with her high-flying act. The singer managed to bring some parts of her Las Vegas residency with her. Carrie is currently on the road for her Denim & Rhinestones tour. However, she managed to fit the awards ceremony into her schedule. Read on to learn more and check out her latest performance.
Impressive acrobatic performance at 2022 AMAs
Carrie Underwood took part in an acrobatic performance. She soared high above the audience during the live event. For her performance at the 2022 American Music Awards, she sang "Crazy Angels" as she flew high in the ceiling. Carrie was suspended in a spherical cage.
She wore a pink and purple bodysuit that showed off her strong physique. Carrie already had fans motivated with the photos from the latest stop in her concert tour. She showed off her muscular arms and strong legs. On Sunday, November 20, she put her strength to good use as she performed her own aerial act inside the Los Angeles' Microsoft Theater.
Carrie Underwood managed to belt out the tune while performing acrobatics. She proudly sang: "Yes, I'm one of those crazy angels / Titled halo with a neon shine." The American Idol alum chose to go barefoot throughout the whole thing. She eventually came down from the ring and glided down the stage to finish her new song.
The songstress got a standing ovation for her performance. Carrie was up for two nominations at the event. She received nods for Favorite Female Country Artist and Favorite Country Album for her latest release. On the red carpet, Carrie wore a sparkly past-colored evening gown with a high slit.
Carrie Underwood is still on cloud nine
Those words went to Taylor Swift, who was the biggest winner of the night. She released the new version of her album Red in 2021. Carrie is still on cloud nine even though she didn't win. She already has an impressive record with the AMAs.
Still flying high from last night at the @AMAs! I love "Crazy Angels" and I'm so glad we got to give her a little neon shine on the show! 😇😇😇 💜💜💜 #AMAs #CrazyAngels

📸: Kevin Winter/Getty Images, Matt Winkelmeyer/Getty Images for dcp, @GettyImageshttps://t.co/4qYnv5kMpU pic.twitter.com/9lF9YxTRKd

— Carrie Underwood (@carrieunderwood) November 21, 2022
The "Ghost Story" singer has 17 awards under her belt. On Monday, November 21, she took to Twitter to reveal that she's still "flying high" from that night. She also included some of the epic shots from her memorable performance. However, some fans argue that she should've won because she's one of the best entertainers in the industry.
What are your thoughts on Carrie Underwood still "flying high" from the AMAs? Do you think she should've won? What did you think of her performance? Sound off below in the comment section.
Check back with Country Music Alley for more news on Carrie Underwood.