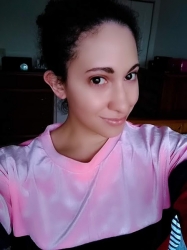 Latest posts by Chanel Adams
(see all)
Carrie Underwood welcomed a baby girl to the family. Does this mean that she's about to become a mom again? Keep on reading for all the details.
Inside her Denim & Rhinestones Tour
Carrie Underwood has been in the midst of her Denim & Rhinestones Tour. She recently took to social media to share her everyday routine. On February 7, Carrie took to her Instagram Stories to share a day in her life. The singer woke up on a tour bus at her latest stop in Atlanta, Georgia.
This comes after the night concluded in Jacksonville, Florida. Carrie says she relies on "coffee and Jesus" to start the day strong. She shares a glimpse at her "C" mug and her journals. The "Ghost Story" singer also shared her "bus breakfast" with her followers. She doesn't eat anything dairy when she's out on the road.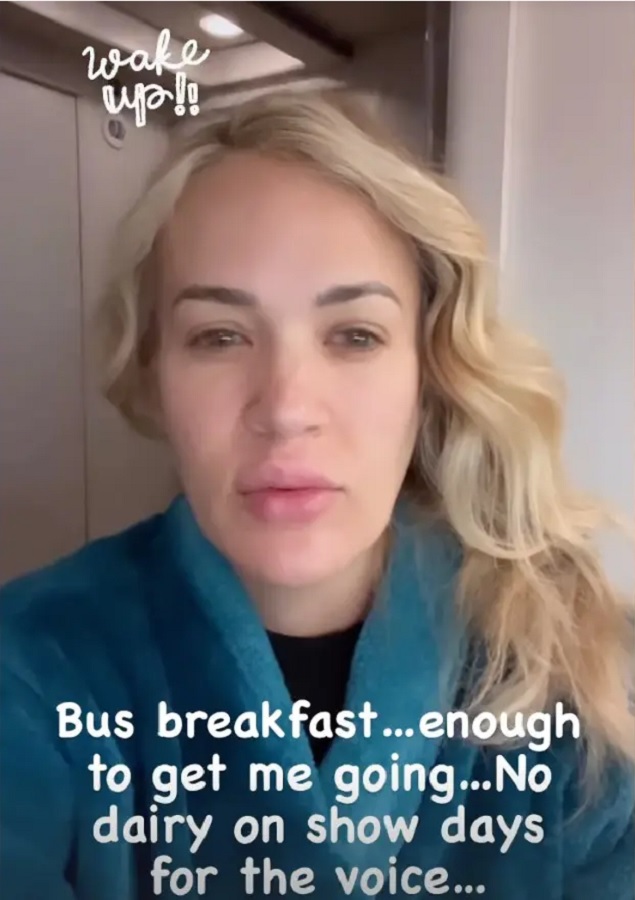 Carrie Underwood also loves to workout out when she's touring. She has more time for her workouts on the road than she does at home. After her workout, she takes a shower on her tour bus and gets ready for her upcoming show. The "If I Didn't Love You" shares two kids Isaiah, 7, and Jacob, 4, with her husband Mike Fisher.
Her country music lifestyle has made it hard for her to be away from home. However, she's in the midst of her biggest tour since before the COVID-19 pandemic. Carrie is happy to be back on the road and performing with her fans. She's also gotten to show off her rockstar side.
Some fans wanted to know if Carrie Underwood intended on having more kids. She seems content with her family. The singer recently shocked fans when she announced that they're growing their family once again. Keep on reading for the announcement about the addition to their family.
We try not to have TOO much fun out here on the #DenimAndRhinestonesTour but it's hard! 😜 Thanks to all those who came out to see us last night at the @JordanCenter !!! 📸: @JeffJohnsonFilm https://t.co/6OJpOZMTMx pic.twitter.com/8fQGmx7Mes

— Carrie Underwood (@carrieunderwood) February 11, 2023
Carrie Underwood introduces fans to a baby girl
On Sunday, February 12, Carrie Underwood shared a carousel of photos of her new baby girl on Instagram. She shared that she adopted a dog. Carrie introduced fans to Charlotte "Charlie" Nilla Fisher. She knew she had to adopt her when she met her at the Pawsitive Impact North Caroline Dog Rescue.
"We had been looking for the right pup for our family for a while and she seemed just too good to be true!" Carrie Underwood wrote. "She is happy at home playing with her boys…and Penny and Zero have responded well and are getting to know their new sister."
Meet Charlotte "Charlie" Nilla Fisher…newest member of the family! I met her in Charlotte when the lovely people at @pincdogrescue brought some puppies to the venue to make us all smile. We had been looking for the right pup for our family for a while… https://t.co/9Gc5xcIX4T pic.twitter.com/LtZnJabmpR

— Carrie Underwood (@carrieunderwood) February 12, 2023
She shared many photos of their new fur baby. Charlie looks cute and content on her white furry rug with her toes. Most fans couldn't stop raving about the adorable photos. Others thanked Carrie for choosing to adopt.
What are your thoughts on Carrie Underwood's new baby girl? Do you agree she's too cute? Sound off below in the comment section.
Check back with Country Music Alley for more news on Carrie Underwood.