Latest posts by Tresa Patterson
(see all)
Resoundingly, country music wonder Dolly Parton remains constantly creative. In fact, the Peace Like A River songwriter gives the chickens competition for starting the day, as noted by Benzinga per MSN. Forever grounded by her Smoky Mountain traditions and habits, the spirited dynamo of giving and timeless songs never seems to allow an idle second in her daily schedule.
Not surprisingly, musical partners from Dionne Warwick to her beloved "fairy goddaughter," Miley Cyrus, marvel at Dolly Parton's endless energy. Speaking of an energy surge, Miley Cyrus is celebrating one of the most unparalleled successes of her career with her latest album, Endless Summer Vacation worldwide. In many ways, the collection represents a very personal statement from Miley after the backlash by some in the wake of her painful divorce from Liam Hemsworth, finalized in 2020.
Although Miley Cyrus regained her sense of resolve, clearly demonstrated by her smash hit, Flowers, Dolly Parton reflects that both she and Miley couldn't get through I Will Always Love You without tears in a Today per MSN feature recalling their New Year's Eve show.  At 77, Dolly never takes kindly to tardiness from any creative partner, as Country Music Alley related in June of 2021, but she knows well that part of the cleansing power of a song comes in tears. Certainly, she keeps tissues handy.
Fortunately for faithful fans, Dolly Parton is dishing more and more on her upcoming Rock Star album in the fall. Beyond the lineup of legendary rockers ready to give their all for Dolly's first foray into rock 'n roll, her deepest reason for the rock collection is right at home.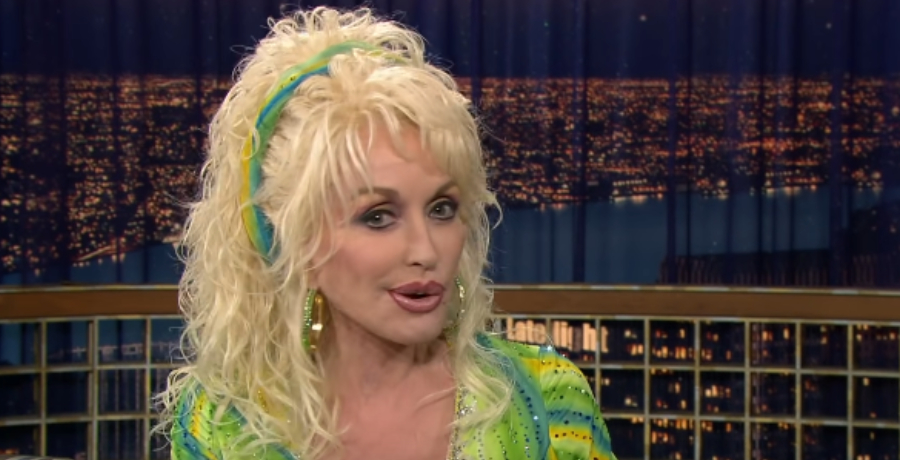 Much more than 'Auld Lang Syne' between Dolly Parton and Miley Cyrus
As longtime fans recall, the bonds between Dolly Parton and the Cyrus clan run deeper than genetics or blood relation. At the start of Billy Ray Cyrus' stratospheric takeover with Achy Break Heart, the composer of My Tennessee Mountain Home and the young Cyrus forged a lasting bond from being "country kids," as Parton deems the relationship.
Just as Dolly Parton remembers the emotion of holding baby Miley as "a tiny little thing," the country queen asserts that Miley's New Year's Eve Party on NBC was "an emotional time" for the 30-year-old, who embodied Hannah Montana for four seasons.
"Even when we were rehearsing, Miley was crying," Dolly Parton confirms. Despite the joy over voices that "seemed to just soar," as the two kindred hearts and spirits sang a unique medley of Wrecking Ball and I Will Always Love You, the emotion still persisted. "She would just have these tears coming down," Parton elaborates. Allowing emotions to flow is the first step of healing. Who better to witness the process than Godmother Dolly?
A new treasure, inspired by hubby Carl Dean
By the time Dolly Parton released her album, Run Rose Run, in conjunction with her thriller novel of the same name, co-authored with the best-selling writer, James Patterson, she describes already having her rock album in mind. Her inspiration lived and breathed right beside her.
"My husband is a big hard rock 'n roll fan, and for years, I thought, 'One of these days I'd like to do an album mainly just for him, just to kind of do it," Dolly pledged.
Of course, her induction into the Rock 'n Roll Hall Of Fame gave perfect timing for her rousing new album, including tracks with Sir Paul McCartney, Steve Perry, John Fogerty, and Steven Tyler, as MSN notes. The full official track list and featured artists are not yet available.
Differences in musical genres appear to make the union stronger between Dolly Parton and Carl Dean. The pair exchanged vows on Memorial Day weekend in 1966. 57 years and lifetimes of love find the two still in sweet harmony.
Dolly is still living her legacy
Eternally, Dolly Parton's musical legacy endures beyond any chronological standard. Her songs serve as a balm to the spirit in hard times and celebrate the simple joys of the soul through good times.
As it turns out, at just 37 years old, the ageless songstress already had a vision of her life through seven decades and more.
She predicts "I'll be quite a character when I'm older. " In a different Showbiz CheatSheet profile, she yearns to "be able to be whatever seems to make me happy." Those endeavors include being able to continue songwriting and "write books, and be sort of like Agatha Christie and always be productive."
Dolly Parton recently celebrated 50 years on the Grand Ole Opry and said: "You wonder how people will remember you when you're older. And I'm older, and I'm seeing how people are remembering me. And that makes me feel very humble."

What makes you feel humble? pic.twitter.com/hJmTEUMTU8

— The Talk (@TheTalkCBS) October 16, 2019
Without a doubt, Dolly Parton defies any limits of productivity with age. She further aspires to be "an advisor to others in the business," prompting her to "learn all I can." Once more, Parton frequently credits her father as her example in business. He modeled savvy and struck the best deal for his family in every negotiation, and worked till he dropped. Even before she could write, Dolly took mental notes and created her first songs
In classic Dolly Parton humor, the legendary songwriter states simply that she hopes the comment most captured in 100 years about her is "Boy, does she look good for her age!"
As the years and decades pass, everything about Dolly Parton, inside and out, only gets better.
Check-in with Dolly Parton and all her latest projects and news with Country Music Alley.