Latest posts by Tresa Patterson
(see all)
Judging from her energy and radiant smile, Mickey Guyton defies the early wake-up hours for morning TV. However, the Grammy-nominated Remember Her Name artist had good reason for her exuberance on CBS Mornings. The passionate Black Like Me singer-songwriter pours herself into the lives and dreams of aspiring talents on the new AppleTV+ competition show, My Kind Of Country. Gladly, Mickey Guyton takes the role of chief bell-ringer for adding seats to the country music table and more gifts of unique stories and spice. Read on for more details.
Mickey Guyton– beautiful in brown
Certainly, Mickey Guyton is no stranger to patterns or prints in her wardrobe. Country Music Alley proved that point with coverage of Mickey Guyton's joyful and emotional performance on the Today show last August. For that event, she was a portrait of pastels, peaches, and rose colors. Not surprisingly, just the sight of her hubby, Grant Savoy, with their son, Grayson Clark, cuddled by grandparents, provoked waterworks for the proud mom.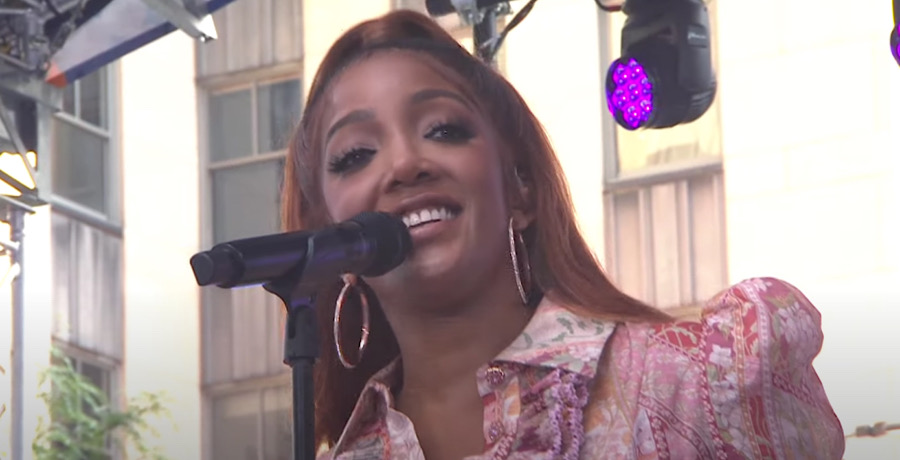 Fortunately, she held it together, and Mickey Guyton chose monochromatic brown in a stylish ribbed-textured pantsuit ensemble and shimmering silver high heels. Like a proud parent, though, Guyton gushed with pride over the potential in her group of talents, alongside fellow judges and good friends, Jimmie Allen and Orville Peck. For his part, Peck, a.k.a. Daniel Pitout, South African by heritage but based in Canada, deals with quite a bit of fashion in his countless scarves and sheaths to conceal his face. However, no one can deny his rich, deep voice and deeper message on songs like The Curse of the Blackened Eye. The pathos comes honestly from Peck, who is openly gay.
Minus the fringe but packed with meaning in her magnificent delivery, Mickey Guyton seems to make her most powerful statements by wearing solid colors. These are the Sunburst red chiffon on the cover of Remember Her Name, capturing the truth and beauty of a madonna for her riveting 2020 ACM Awards performance of What Are You Gonna Tell Her. Plus, royal blue for the national anthem for Super Bowl LVI. Last Christmas season, Mickey graced the Rockefeller Center stage in regal, textured purple. Her heartfelt truth in I Still Pray was an altar call for anyone in earshot.
Mickey insisted on 'more than a show'
Naturally, Mickey Guyton knows that clothes and whatever else is on the surface of a performer have very little to do with becoming a lasting artist. The fortitude of the mind, spirit, and soul combine to craft a true artist. Vividly, Mickey recounted her experience on American Idol back in Season 8 of the competition in 2009. She was cut just before the Top 24 went to the live shows.
Admittedly, Mickey Guyton relates that she "lost sleep" over her Idol rejection experience. Today, though, as a mentor on My Kind of Country, she adamantly asserts that "I felt a huge responsibility for each one of these artists." Up front, she let producers know "you have to go beyond the show. You have to protect these artists." With pure compassion, she stresses that she wanted none of the sense of feeling "disposable" and "on to the next, next thing." Along with her mentor partners, the songwriter aims to give talents tools to know their own unique voices. Plus, she wants them to sustain themselves as artists, not merely top contenders for a season.
Country music is everywhere
While Gayle King interjects that she never considered South Africa, Mexico, or India as fertile ground for country artists, Mickey Guyton passionately defends that "Country music is universal." Just as varied shades and textures from across the globe blend to make beautiful garments, every new artist brings a new story to tell. This makes country music better and more approachable.
In conversation, another topic that gets Gayle a bit prickly is that some emerging artists on My Kind of Country sound "a little poppy." Mickey elaborates that sounds across genres have always made their way into country music, from rockabilly to sampling. Another element of her new role that causes Mickey Guyton to lose sleep is letting contenders know that they won't move forward. She assures that hearing that hard truth in no way means they are less as an artist. One of her greatest strides is that "I didn't give up," even through the many times she considered quitting.
Mickey keeps a secret
Regarding all the infusion of new sounds and cultures into country music, Mickey Guyton borrows Jimmie Allen's wise words. "We're not trying to change country music– we just want to add to it." Furthermore, she points to the many global communities that have no access to true country music without shows like My Kind of Country.
Of course, busy mama Mickey Guyton has a booked calendar beside her competition show. She opens for Shania Twain soon on her 40-date stint with the Queen of Me Tour. Obviously, the singer is giddy over new music coming out this summer, "but I can't say who it's with…" Mickey Guyton eludes.
Still, wherever and whatever Mickey Guyton creates on her own or with partners– people listen.
My Kind of Country premieres today on Apple+ TV– will you be watching? Give a shout in the comments and keep tuned into Country Music Alley.