Latest posts by Mandy Robinson
(see all)
Another feud may be brewing in the world of country music. It appears Maren Morris is taking on Jason Aldean. Her recent post on Instagram just might be a jab at Aldean's hit song, "Try That In A Small Town."
Maren Morris' Instagram Post
The country singer posted a photo of herself. Included in the photo, was a miniature of a small town with a billboard that read "Welcome to Our Perfect Town From Sunrise to Sundown."
Morris wasn't quite finished. She captioned the Instagram post with "I'm done filling a cup with a hole in the bottom." If this isn't a jab at Jason Aldean and his song "Try That In A Small Town," what could it be?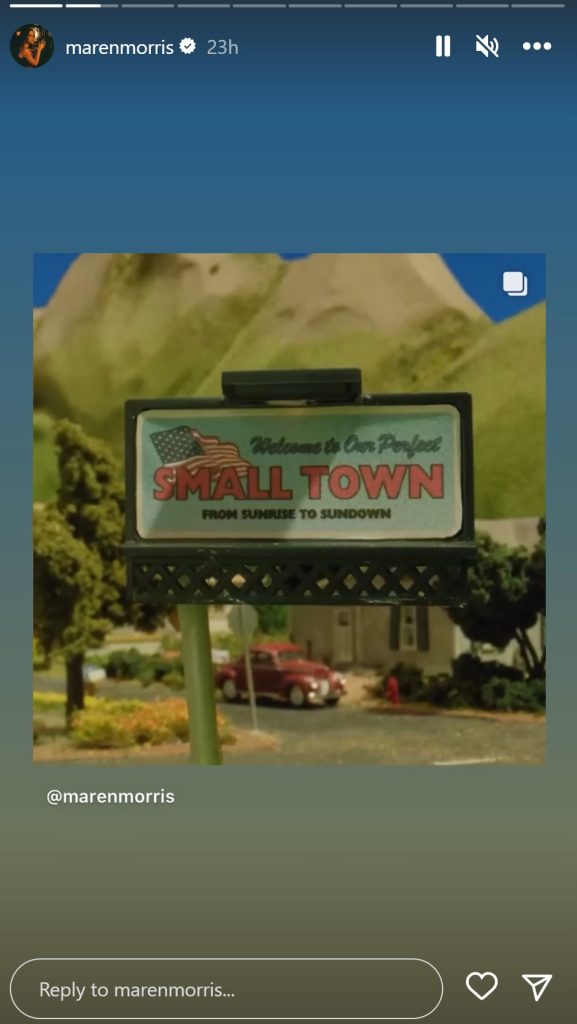 Jason Aldean's Controversial Song
Jason Aldean released his hit song, "Try That In A Small Town," back in May of this year. All was well until he released the video of this song. That was when things went sideways.
Some people took offense to the fact it mentioned several controversial topics such as gun ownership and crime. The fact Aldean's video was shot in front of a courthouse where the lynching of a black man took place back in 1927 did not help matters. CMT pulled the "Try That In A Small Town" video four days after it was released.
View this post on Instagram
Maren Morris Isn't Shy About Her Beliefs
This wouldn't be the first time Maren Morris has let her feelings be known. Morris has spoken out on her beliefs in the past. She is known as a supporter of the LGBTQ+ communities as well as her support of the Black Lives Matter movement.
Morris isn't hiding her beliefs. She has even gone as far as to release music in support of the BLM movement. She has spoken out about "progressivism" in Nashville and in the country music world.
How Far Will This Go?
Seeing both Maren Morris and Jason Aldean are not hiding their beliefs, this could turn into something similar to the Toby Keith/Dixie Chicks feud. That feud fueled Toby Keith's popularity and music sales but had the opposite effect on the Dixie Chicks. In fact, it almost ended the country music careers for the trio.
Will the Instagram post by Maren Morris start a feud with Jason Aldean? If so, how far will it go? Will Morris go even further with her statements or is she done? Will Aldean strike back with statements of his own or will he be silent? Could this blow over quickly? If this turns into a feud, whose side will you be on?  Tell us your thoughts and feelings. Be sure to sound off in the comments below and let us know what you think will happen.