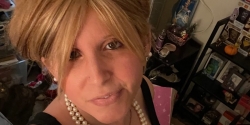 Latest posts by Amanda Nowitz
(see all)
Jelly Roll is continuing to show what a pure heart he has, this time with a disabled vet. His shows are always an event, something happens that makes fans love Jelly even more. This time, it was a special moment that no one who attended the performance will ever forget. Read on for more details.
Jelly Roll Shows Pure Heart With Disabled Vet
It is quite common for Jelly Roll to show what an upstanding person he is. The drastic transformation that he has undergone since being incarcerated is phenomenal. Of course, he knows that not everyone will forget the old Jason DeFord but he has done his absolute best to overcome the demons that have long haunted him. He helps the hungry, grants last wishes, embraces those who remember him from way back and spreads love to those who are there for him. Plus, Jelly is determined to let other inmates know that there is hope on the outside if they just believe.
Now, Jelly Roll's latest act of kindness was shown at his Albuquerque show, according to All Country News. He saw a disabled man, in a wheelchair, who was crowd surfing during the show. Immediately, Jelly knew he needed him up on the stage with him so he said "all hands on deck." They were able to get him, Richard, on the stage safely. That was when Jelly broke out into "Son of a Sinner" and made sure that his new buddy was singing along with him. In the end, Jelly told Richard that he made his night but he really made the crowd's entire evening with this kind gesture.
Fans who saw this video were immediately touched by this warm moment. "Omg I almost bawled. My sister was in a wheelchair and so many people looked past her. I love @Jelly Roll even more. He saw a fan not a disability!" one wrote. Another added: "See that's what I'm talking about. This man heart ❤️is so big . I think he's straight up because we love him . ❤️"
So Much More To Him
Though he is covered in tattoos, Jelly Roll is more than meets the eye. He is a family man who has been married to his wife, Bunnie XO for seven years now. Jelly also has two children, Bailee and Noah the former whom he has collaborated with. This is just a small fragment of who he is and it is clear that he has sure a pure heart and soul.
What did you think of the video? Did it make you a fan if you were not before? Let us know in the comments below.