Latest posts by Shawn Lealos
(see all)
Toby Keith took the stage at the recent People's Choice Country Awards and brought back an older song. However, thanks to his recent battle with cancer, the song took on a whole new meaning. It didn't leave a dried eye in the house and might be Keith's next big hit.
Here is what Toby sang and how it might find new life in 2023.
Toby Keith finds new hit with 'Old' song
Even before Toby Keith received his cancer diagnosis, he was falling out of favor in the new world of country music. He hasn't had a hit song in years. Country music radio has a specific brand of music it plays, and Keith hasn't been a big part of that scene in many years. However, his performance of an older song – and his recent cancer battle – might force radio to put the five-year-old track back into the rotation.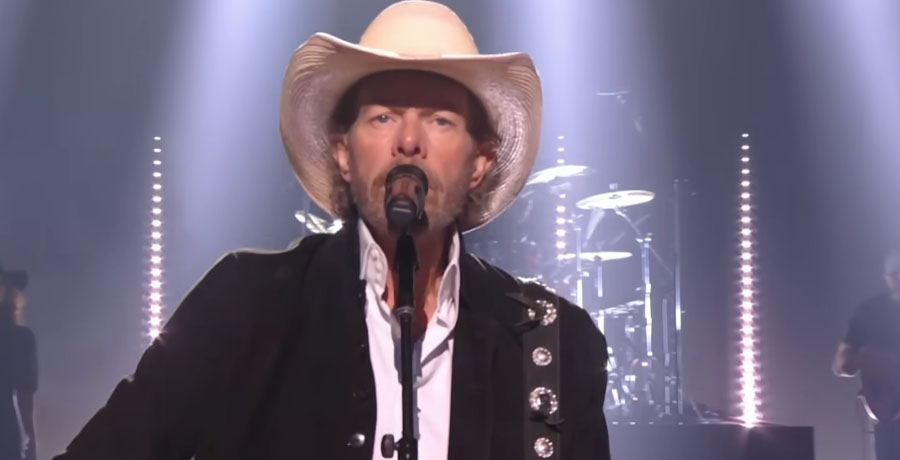 At the People's Choice Country Awards, Keith performed his five-year-old song "Don't Let the Old Man In." It seemed like the perfect song for Keith in his recovery from his cancer battle. However, he wrote the song before his diagnosis and it had nothing to do with his own struggles or sense of mortality. Instead, Toby wrote the song after golfing with Clint Eastwood. It was the actor/director's 88th birthday.
Toby asked Clint how he does it throughout his later years. He said Clint told him, "I just get up every morning and go out. And I don't let the old man in." Toby Keith then wrote the song based on that one line. Now, that song hits a little closer to home for the country music singer.
Toby Keith cancer battle update
Toby Keith performed "Don't Let the Old Man In" at the People's Choice Country Awards, and it took on a whole new meaning than the Clint Eastwood story. The opening lyrics start off with "Don't let the old man in/I wanna leave this alone/Can't leave it up to him/He's knocking on my door."
There were then some sobering lyrics, which included, "Many moons I have lived/My body's weathered and worn/Ask yourself how would you be/If you didn't know the day you were born."
Those lyrics can just refer to the effects of old age. For Toby Keith, it is much more as he is much smaller, and cancer clearly took its toll on him. His wife was shown in the audience in tears as he sang this song, knowing what it all means now. The good news is that Keith said he has come through the cancer battle thanks to his faith and prayers.
What are your thoughts on Toby Keith's performance of "Don't Let the Old Man In" from the People's Choice Country Awards? Do you think it might find new life on country music radio? Let us know your thoughts in the comments below.