Latest posts by Tresa Patterson
(see all)
Consistently, Dolly Parton proves to be a marvel in making the world a better place and maintaining her status as a one-woman dynamo of entertainment. At 77, and with her next birthday soon approaching in January, Parton has more projects in the works than a mama possum, as she would say.
Her latest book, Behind the Seams: My Life in Rhinestones, hit shelves last month. Currently, the chronicle of her style from ultimately bedazzled to beautiful in blue jeans reigns at #1 in Country & Folk Composer Biographies on Amazon.
Speaking of #1's, that's just the position that most people in the know predict for Rockstar, releasing November 17. The entire 30-track collection serves as Dolly Parton's loving dedication to her favorite rock fan, her husband, Carl Dean. Above the critics or even anyone among the luminaries performing with Dolly, "I want to please him, to be honest with you– more than anybody else," she openly declares.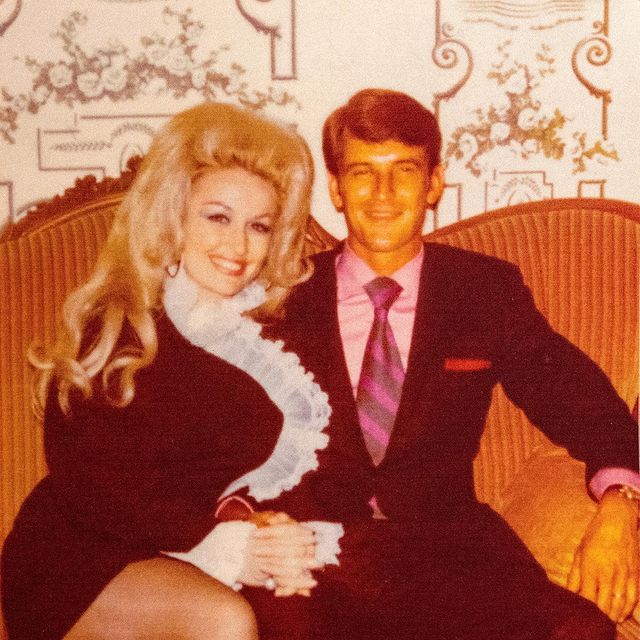 On the cusp of the holiday crush, however, as The Washington Post per MSN, Yahoo News, and MovieGuide convey, Dolly Parton announced something that she hopes will please multitudes of visitors to Dollywood– her new HeartSong Lodge and Resort. Aside from filling all of the 302 rooms, of course, the prime entrepreneur of Pigeon Forge, TN promises that the Smoky Mountain Christmas Celebration, which debuted for 2023 last week, is assuredly one of the most delightful experiences of visitors' lives. Does Dolly have a new title now, too? See what she says about that.
Dolly is a different kind of 'hottie' now
Throughout her more than six decades as an entertainer, author, businesswoman, philanthropist, and unparalleled songwriter, Dolly Parton defined what it is to be "hot" in her industry. Certainly, both male and female followers dubbed her with that term. More remarkably, across decades, Parton simultaneously found film and music success as she crossed into pop classics to draw another generation.
With her HeartSong venture, it's not a sparkly mini-dress, the tiny braids of her coiffe, her "skyscraper heels," as one attendee noted, or even a hot Tennessee night that gives Dolly Parton a new "hottie" title. Indeed, she's something of a tycoon, it seems.
"People are calling me, what do they call it? A hotelier now?" Parton quizzically ponders. Departing from the fairytale, dream-come-true themes of her DreamMore Resort, where Country Music Alley revealed that a "secret song" waits to be unveiled by Dolly Parton in 2045, HeartSong Lodge and Resort captures the wild and woolly side of Smoky Mountain life– right down to murals of bears prowling in the woods perched right above guest beds.
Dolly doesn't fly solo as a hostess
If they so choose, guests in the $319 and up rooms at HeartSong can waft off to dreamland with the sounds of crickets, frogs, bird songs, rushing water, bonfires, or pelting rain from a sound machine in each individual room. Already, Dolly Parton has sophomore success as a hotelier. HeartSong rooms were sold out for the opening. For her part, the "My Tennessee Mountain Home" artist realizes, "I get so much credit for all the hard work that all these wonderful people do."
In gratitude, she credits "my wonderful team" for putting the sense of teamwork and dedication to do everything at HeartSong, from keeping the roller coasters on the track to housekeeping and serving and preparing every meal. "They represent me so well," Dolly Parton praises. Naturally, Parton admits, "I take great pride in it all," related to her theme park success endeavors. Still, at the core, the girl from the Tennessee hills turned mogul, a.k.a. "Dreamer-in-Chief," feels most satisfied "to help provide jobs for my neighbors and friends."
A country girl grows up as a caterer
As Dolly Parton confesses, she wishes her childhood house resembled something like a HeartSong suite and a touch less rustic. The "Shine" singer wants visitors "to feel appreciated and that they've been pampered and spoiled just a little bit, and catered to."
Despite her desperately humble means of growing up in the middle of 12 siblings, Dolly Parton sees that her roots taught her excellent lessons in hospitality.
"When you grow up in a big family, you cater to one another, you cater to your neighbors, you cater to your friends," Dolly Parton stresses. "Even on Sundays when the preacher comes over, you're always kind of giving, and we kinda have that spirit at Dollywood resorts."
By necessity, by example, and by indelible lessons, Dolly Parton learned the value of true homespun hospitality.
Would you like to plan a HeartSong getaway at Dollywood? Let us know in the comments. Keep up with Dolly Parton and more favorite country music artists and all their projects with Country Music Alley.