Latest posts by Emmalynn Miller
(see all)
Reddit members are back at it again, ready to drag a new couple. This time the victims are Chris Lane and Lauren Lane, who had a rather unflattering picture taken at the annual CMA Award ceremony.
Chris Lane and Lauren's Relationship
Lauren and Chris Lane confirmed their relationship in November of 2018 when they attended the BMI Country Music Awards together. The two had met a few years prior during a separate award show, but things didn't get romantic for a while. Chris had proposed to Lauren at a family cookout after only 7 months of dating. 4 months later they were married. Though things were rather rushed, the two have been going strong and are still married. They even have 2 kids together, both boys.
What a challenge it was just to get this photo! Dutton's second Halloween and Bakers 1st was a success! 🎃 pic.twitter.com/t13PZrpQ2q

— Chris Lane (@iamchrislane) November 1, 2023
Reddit Gets A Hold Of Chris Lane's Awkward CMA Photo
Like many other famous artists, Chris Lane enjoyed a date with his wife at the 2023 CMA Awards on November 8th. The pair appeared to be having a fun night together. However, Reddit found a specific picture of the couple rather odd. u/giraffe009 posted a picture of Lauren and Chris on the r/thebachelor subreddit, saying that they looked miserable together.
Over 200 people fed the gossip flame in the comments, making all sorts of bold insults and claims. Here are a few of them:
"His career is flaming out HARD so she probably won't stick around much longer." –u/sg86
"Can't deny body language. They both seem miserable. He always appears drunk and high. She married him because she thought he was going to be a major superstar- whomp whomp. He completely flopped. Now she's miserable. That's what happens when you marry for vain and shallow reasons 🤷🏻‍♀️." –u/grilledcheesefan001
"He seems super useless and disconnected from their whole family. I bet he doesn't do much around the house to take care of the kids…he just gives "I'm going golfing, bye hunny" vibes." –u/Willing-Place-1987
One user makes a specifically good point, pulling up a picture of Lauren Lane next to Gerry Turner. This was a picture posted to Lauren's Instagram story the night of the awards, she even goes as far as saying "We would make a cute couple." Here is what the Reddit user had said:
"Yall why does she look more coupled up with Gerry than her own husband lmao
But seriously, their body language is so awkward, it looks like they want nothing to do with each other. Meanwhile, she's absolutely beaming and radiant next to Gerry."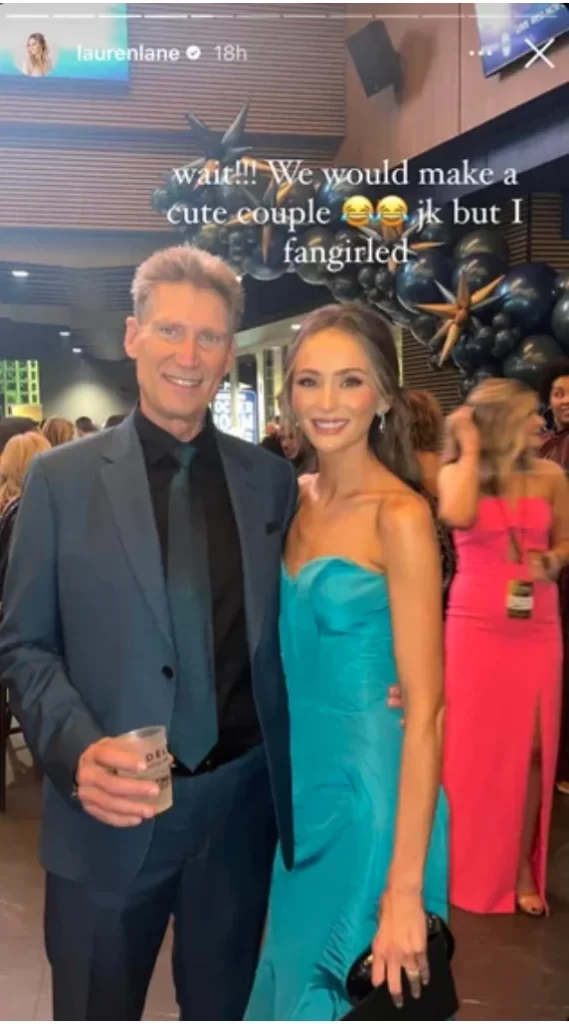 Luckily a few comments were on Chris and Lauren's side. Some claimed that it could just be a bad photo or that any normal person may look uncomfortable at such a large event. Are things going south for this long-lasting celebrity couple? Reddit sure thinks their relationship is done for. What do you think?