The irrepressible country star, Coffey Anderson, and his wife, Criscilla, surely verify that when it rains, it pours in these pandemic times.  The resilient family at the center of the Netflix series, Country Ever After, never hides the struggles they face as a truly blended family.
For some time, Criscilla has openly battled stage four colon cancer. Coffey Anderson is staunchly at her side and constantly in her corner as he continues to build his country music career as an independent artist.  What came to light in People and Taste of Country features is how the couple faced life-and-death from what was praised as a possible wonder treatment.  COVID and cancer combined as a dark duo but these life partners never lost faith.
No reason to expect a negative outcome for Criscilla or Coffey Anderson
Ask any fan in attendance at one of Coffey Anderson's countless (pre-pandemic) gigs, and to a person, he or she can recite his "Mr. Red White and Blue." The song truly took the singer to unforeseen places after his 2008 stint on Nashville Star. While some in the crowd craves the patriotic vein or the sound of his "Cowboys Like Me" or the more pop-pleasant style of "She's Famous," the song that speaks what Criscilla Coffey and Coffey Anderson most wanted for their future echoes in another song title, "Better Today."
"I had been so healthy," Criscilla stresses.  The 40-year-old cancer patient took supplements and natural treatments and felt "on point" with her health.  She understood that she would take three drugs as part of a clinical trial.  The wife and mother took encouragement from the "great results" her doctor had seen from the treatment. A cancer patient always clings to any possibility of hope and regained health, especially a young mother of three and a loving wife.  Coffey Anderson stood in his wife's corner.
The treatment course had a one in 10 possibilities of producing a rash and a 1 in 20 chance of risking an inflamed liver. "I'd be good," Criscilla thought, with the full support of Coffey Anderson and trust in her doctors.  Sadly, there was a long and frightening road to get back to "good."
Not the way to spend a premiere for Criscilla and Coffey
After her initial round of treatment, Criscilla finds out the hard way that she was the patient with the odds against her.  She had "one of the most extreme rashes my doctor had ever seen," as she posted on social media.  Her physical ordeal was unfolding at the same time as Country Ever After was celebrating its premiere.  On what should have been "my happiest of days," Criscilla Coffey was "praying to God that I could make it another day."  Coffey Anderson handled the crush of publicity demands from the premiere, but the country music husband had a bigger problem.  "She couldn't get any relief," Coffey realizes.
The crooner committed himself to bringing his wife home.  Dolly Parton was already recording Christmas songs around this time, but Coffey Anderson thought Criscilla stood a much better chance of healing in her own home, surrounded by the faces of their children, Ethan, 8, Emmarie, 6, and Everleigh, 3.  Coffey recalls his wife saying that she is going to "fight this thing with my babies by my side."  Despite her sick liver and blotchy, crimson skin, Criscilla insists "I get strength from being around you all."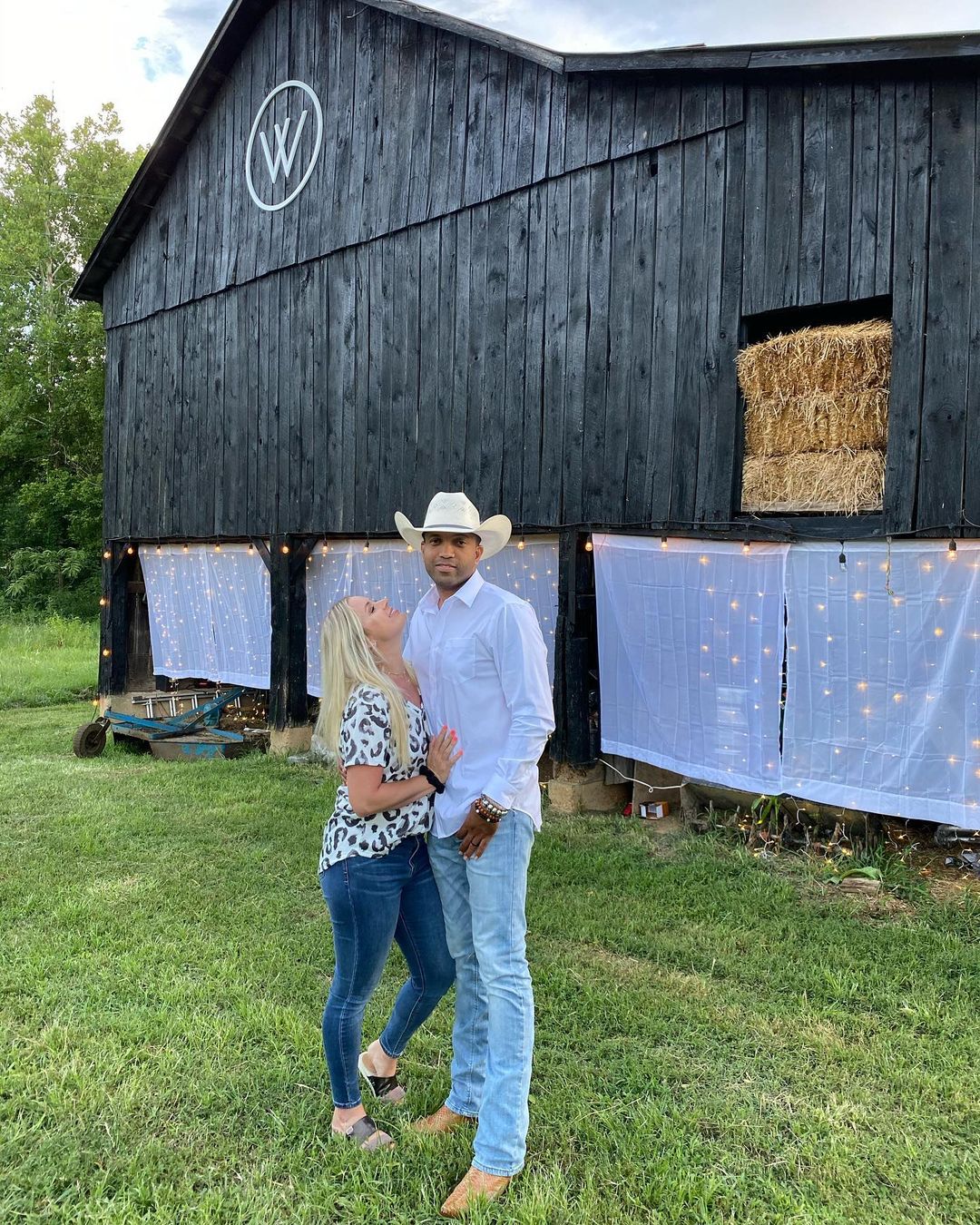 COVID was another trial for Criscilla and Coffey Anderson
Coffey Anderson loves to tell the stories of how Criscilla was the bigger star when the couple met.  The hip-hop dancer was booked constantly by rulers of the hip-hop realm like Snoop Dogg.  Coffey relates how Dogg's bouncer "filled the whole door" when he came to see Criscilla for the first time in Ventura.  Something about his smile, sincere faith, and how he "cleaned the nasty" from his truck tapped at the heart of the woman he married in 2010.
This challenging, comforting, and cozy story sounds just like something perfectly edited for reality TV.  The truth is never so easy.  Criscilla and Coffey Anderson both contracted COVID.  The showers of discomfort were becoming buckets.
"I don't want to say that I am losing hope," Criscilla recalls of the period.  She does admit to feeling "frustrated and defeated." She injured sessions in a barometric chamber.  Somehow, in the hard times, she and Coffey Anderson manage to muster faith, and it wasn't for no reason.  Her scans after the illness showed that her tumors were shrinking or remained the same size.
"It's been a hard 45 days, I'm not going to lie," Criscilla confirms.  The latest scans bring her and Coffey Anderson renewed hope.  The cancer warrior is philosophical and faithful.  "There are good scans and there are bad scans," she relates. "That is the journey of cancer."
No doubt, Coffey Anderson will create new songs of faith and country songs of inspiration from this bond with Criscilla in overcoming cancer. Their future generations will sing to them and for now, the parents want to enjoy the present—as healthy and happy as possible.  Let's hope there's a Christmas tree to decorate, not quite as tall as Tim McGraw's.
Latest posts by Tresa Patterson
(see all)