Ten years is a great run for any show. But ten years, twenty seasons and 472 episodes makes The Voice an impressive stand out when it comes to any reality competition show. Now that The Voice is gearing up for the premiere of Season 20, it is interesting to see the changes that have happened over the seasons. Two things have not changed. The first being the host, Carson Daly. And the second is coach Blake Shelton. Blake is the only OG coach still standing. "I can't believe I have sat in this chair for the 20th season," the 'Minimum Wage' singer said.
As Blake prepares himself to battle once again for a team win on The Voice, he is having to be extra careful about his competition. Apparently, the other coaches are gunning for The Voice's most winningest coach.
Ten years strong
The show has seen a lot of coaches come and go over the years. This starts with the original four, Adam Levine, Blake Shelton, Ceelo Green, and Christina Aguilera. These four battled it out for four total seasons together before Ceelo and Cristina decided they no longer wished to continue with the show. Adam duked it out with Blake and the new judges for sixteen seasons but decided he was ready to move on after eight years. Since then, the coaches have switched out chairs many times. The longest seated judge after Blake is Kelly Clarkson, who has six seasons under her belt and three wins. Two of those wins were consecutive, which no other coach (except Blake) has accomplished. Kelly will be adding another season to her resume as she and Blake will be joined by Nick Jonas and John Legend again this season.
But all Kelly's experience and accolades do not impress Blake. The country star still sees his counterpart as a bit green. "[E]ven Kelly is still a rookie compared to me," Shelton bragged. But Kelly was not impressed and sparks started flying between all the coaches.
"Blake wins a Season and all of a sudden he's feeling like he's king again but Nick keeps calling him out," Clarkson quipped. But Nick was "not against Blake," but he did say, "Blake is a big, big bully. He won the last season I was on and I didn't and it rubbed me the wrong way."
Kelly wasn't holding back and confirmed during a coach selection when she encouraged the contestant to pick John Legend. "I am totally going against Blake; I think you should go with John [Legend]."
Blake Shelton still loves his job
All the barbs, teasing and potshots the other judges have taken just make Blake smile really. "It makes me happy to see the other coaches team up against me I think it's cute, it's desperate, all three of them have to get together to try and beat little ol' me, I mean it's funny."
Shelton talked later talked about the real reason he still returns to The Voice is finding young talent. "Country music has been my life since I was 14/15 years old and now what's exciting for me is to find new young talent."
Blake Shelton was in a little bit of awe when it hit home how many seasons the show has had.  "This is our tenth-year anniversary and it's unbelievable that the talent level just keeps getting better, 20 seasons now of being a coach on this show and I still love my job."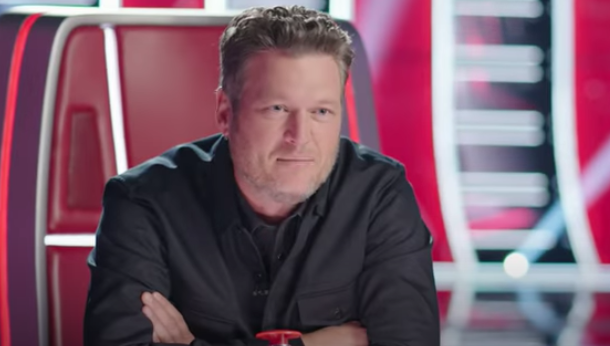 Blake has enjoyed a total of seven wins during his tenure on The Voice. But the sad reality is that the real stars of the show are the coaches, not the contestants. The truth is that all the winners of The Voice only enjoyed mild success compared to other talent show victors. Kelly Clarkson, Jennifer Hudson, Adam Lambert, and Carrie Underwood are perfect examples of the superstars that American Idol produces. And The X Factor is responsible for One Direction and Fifth Harmony. But The Voice has not had a contestant to shoot to those levels of success. While Morgan Wallen didn't win in Season 6, he's breaking records previously set by Country legend, Garth Brooks.
The Voice will premiere on March 1 at 8 p.m. EST on NBC.
Latest posts by Mandy Robinson
(see all)