Taylor Swift fans have a feeling that Selena Gomez teased a collaboration. Both singers are facing career highs right now. The "Willow" singer won her third Album of the Year award at the 2021 Grammy Awards for her surprise album, Folklore. Now, she's gearing up for the re-release of her sophomore album, Fearless (Taylor's Version) on April 9.
Meanwhile, Selena just dropped her first-ever Spanish album. But fans think the long-time best friends are up to something. She may have teased that they worked on something together. Taylor and Selena haven't been seen together for some time. So Swifties think that she recorded a never-before-heard song for Fearless (Taylor's Version).
Selena Gomez shared a selfie with Taylor Swift
On Monday, March 22, Selena Gomez took to Instagram to share a rare selfie of herself with Taylor Swift. In the series of photos, the two best friends pose with Taylor's cat, Benjamin Button. She captioned the post: "kinda missin this one." Taylor took to Selena's post to write: "I love u like a love song bay beh," which is a reference to her 2010 hit song "Love You Like a Love Song" from Selena Gomez & The Scene's album When the Sun Goes Down.
Over 10 million fans liked the post. As soon as Selena posted the photos, Swifties started looking for clues. Even Selenators joined in on the fun. Some of them noticed that Selena doesn't have access to social media. She's often said in interviews that a friend has access to her Instagram account. Most of the time, Selena's team runs her account for her. So, fans believe that this post was music-related and teasing a possible future collaboration. Fans also noticed that Selena's post had 18 letters and was posted 18 days before the release of Fearless (Taylor's Version).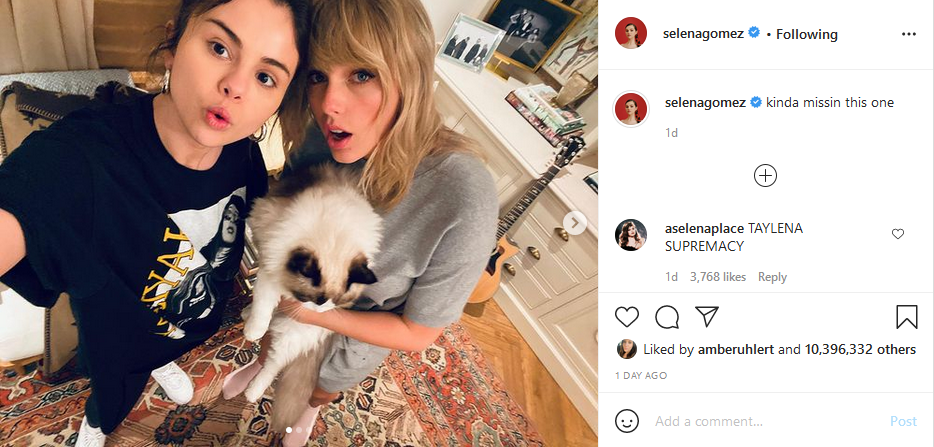 This comes after another Swiftie noticed an Easter egg from Taylor's previous Instagram post. However, in Selena's post, one fan noted that Taylor wore Selena's makeup brand, Rare Beauty, to ACM Awards in 2020. The "Cardigan" singer wore a lip color named "fearless." Other fans noticed that there's a photo of a guitar in the background. In a recent interview with Vogue, Selena admitted that she's been spending most of her time learning to play the guitar while in lockdown.
The besties have teased a collaboration for many years
The clues continue to add up. Both Swifties and Selenators are convinced that Taylor Swift and Selena Gomez are working on a collaboration. While most of these clues haven't confirmed anything, Selena previously teased Taylor's single "ME!" years before its release in an Instagram post. She was one of the first people to hear the original version of Fearless in its entirety before it dropped.
But nowadays, Taylor's boyfriend, Joe Alwyn, got to hear Folklore and Evermore in all of their glory before they were released to the public. Back in August 2020, Selena teased a collab with Taylor on Animal Talking with Gary Whitta.
"I've always dreamed about doing a song with Taylor," she admitted. "We both wanted to do that….. We've talked about it, for sure."
Gary asked if a collab would happen soon, Selena only said, "You never know…"
It could happen on Fearless (Taylor's Version) if both fans are right. But they will have to wait until April 9 to see if Selena ends up on there. The singer-songwriter already told her fans that it will include six never-before-released songs.
What are your thoughts? Do you think Taylor and Selena are up to something? Sound off below in the comments.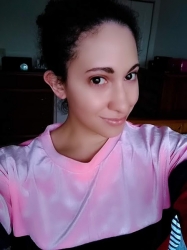 Latest posts by Chanel Adams
(see all)