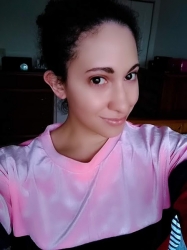 Latest posts by Chanel Adams
(see all)
Brittany Aldean is the center of rumors. The internet is talking that a new Real Housewives spin-off called The Real Housewives of Nashville is in the works. Music City has been rumored to become the next franchise for a few years now, and fans are wondering if it's happening. If there's going to be a Real Housewives of Nashville, then it needs some of country music's leading housewives.
However, it might come with controversy. As Country Music Alley previously reported, some of these country wives were caught sharing conspiracy theories at the height of the Capitol riots that took place on January 6. Country fans would tune in regardless of the controversy and it would take the franchise in a new direction.
Brittany Aldean speaks out
Both country fans and Bravo fans are wondering if The Real Housewives of Nashville is happening. The cast is rumored to consist of Alexis Allen, Brittany Aldean, Jana Kramer, Jenna Perdue, Kasi Wicks, and Sabina Rich, according to Country Now. Kramer previously revealed that she auditioned for The Real Housewives of Beverly Hills. She also expressed interest in starring in a reality show that's focused on her family life.
In the comments section of Kramer's recent Instagram post, fans are speculating that she's filming for The Real Housewives of Nashville. However, Bravo has not confirmed the rumors. Brittany Aldean is the only one who's speaking out. On Monday, April 12, she took to Instagram to quash the rumors that she's joining the reality show.
"I've read a lot of things about myself over all these years. One being that I am a conspiracy theorist. Another being that me and Jason have marital issues and now, apparently, I'm on the 'Real Housewives of Nashville,'" Aldean said.
"You're on 'Real Housewives of Nashville'? Since when?" her husband, country superstar Jason Aldean joked in the background.
"Apparently, it's new. It was apparently filming going on that I am unaware of. Fake news strikes again," she responded. "It would be entertaining thooooo."
Is 'The Real Housewives of Nashville' even a good idea?
Fans are split on whether or not expanding the franchise in Nashville is a good idea. The main concern is having well-known housewives like Brittany Aldean and Jana Kramer. Some feel that having unknown housewives makes for a better show. Others think that having these celebrity housewives will not only bring more drama but also more controversy with their social media posts and political views.
Despite the rumors, TMZ reports that the idea for The Real Housewives of Nashville is a "little premature" but that they are not too "far from the truth." The outlet also noted that Kramer and Kasi Wicks have been filming with Sabina Gadecki (Tyler Rich's wife) and Jenna Perdue (Dee Jay Silver's wife) for a show that's in development at NBC. If this project gets greenlit, then it could end up on either E! or Peacock.
Despite Aldean's denial, the Deux Moi account on Instagram shared an explanation about how the show works. At the 2018 Critics' Choice Awards, Andy Cohen said he would like to focus on Nashville for his next Housewives show. He feels that the city has incredible music, as well as incredible celebrities. So, it looks like he wants to bring some celebrity caliber to the franchise.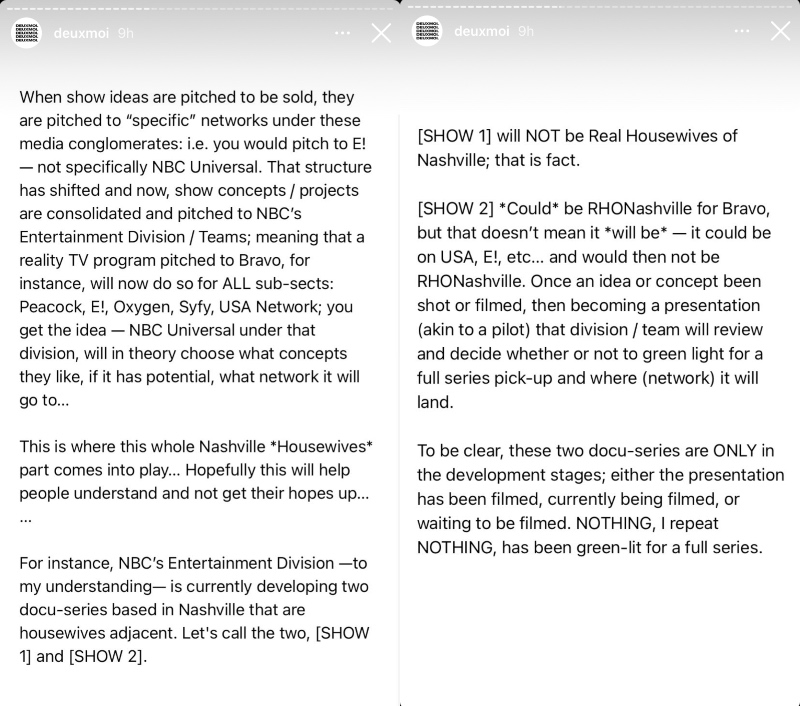 Having celebrities on the Real Housewives franchise isn't unheard of. Actresses Denise Richards and Garcelle Beauvais starred on The Real Housewives of Beverly Hills. For the first time, Kathy Hilton will become a full-time Housewife in Season 11. Over the years, Kris Jenner was rumored to appear on the show. Even if she's not a big celebrity, she's still a household name.
What are your thoughts? Do you think Brittany Aldean is filming a reality? Would you like to watch The Real Housewives of Nashville? Sound off below in the comments.