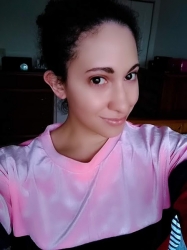 Latest posts by Chanel Adams
(see all)
Gwen Stefani showed off a leggy look on Instagram. The No Doubt singer was decked out in pink and denim. However, fans couldn't help but notice Gwen's legs. Her style has changed a lot since she's been with country star Blake Shelton.
Some would say that she's inspired by her relationship. Others think he completely changed her. Gwen has always found a way to combine country and punk rock styles. She's been following her husband on his Friends and Heroes Tour. Gwen wanted to put on a super-sexy leggy look for her man.
No Doubt singer makes hearts melt
On Thursday, August 19, Gwen Stefani took to Instagram to share a new post. She shared a selfie of herself wearing a bubblegum pink blouse that featured rhinestones. Gwen accessorized her look with gold necklaces, red lipstick, and fake lashes. She then followed up with a clip of her entire look.
She matched the blouse with a denim skirt that featured a pink ruffled plaid hem. The camera slowly panned up to her long legs that wore fishnet stockings. Gwen showed off her bubblegum pink sparkly cowgirl boots. Per Footwear News, Steve Madden designed the shoes, which cost $250. She moved her hands up and smiled as she showed off her bold look.
"@blakeshelton thank u for having on me on the #friendsandheroestour gx," Gwen wrote in the caption.
View this post on Instagram
Fans nearly fainted over the post. Over 203,000 peopled liked Gwen's post. Paris Hilton simply commented with the heart-eyed emoji. Singer Salem Ilese wrote, "omg queen." One fan couldn't stand her outfit. They added, "I love you and your style Gwen but this looks childish…"
Overall, most fans and followers loved Gwen's look. One commented that it's the perfect amount of "country tacky chic." Another added, "Love you, Mrs. Shelton!!!" Some fans think that Blake and Gwen need to share more photos together.
Is Gwen Stefani leapfrogging into country music?!
This comes amid a new report that Blake Shelton's friends are not happy with Gwen Stefani. They find it interesting that she went from ska-punk to cowgirl in a snap. The report is in this week's issue of Star Magazine titled: "Gwen: Backstabbed by Country Stars." The "Let Me Reintroduce Myself" singer is learning that Nashville isn't as nice as it may seem.
An insider told the tabloid that country singers aren't happy with Gwen hopping over to a different genre. They think she's making a mockery out of their music. What's even worse is that Gwen "turned up her nose" to Blake's Oklahoma ranch and bought a $13 million mansion. His friends feel that she shouldn't go back and forth between the South and Hollywood.
View this post on Instagram
However, the couple looks happy splitting their time between their two homes. It's obvious that Blake's ranch means a lot to Gwen. It's the very place where they got married. She also seems happy winning country music awards with her man.
What are your thoughts on Gwen going country? Do you like her latest look? Share your thoughts below in the comments.
Check back with Country Music Alley for the latest news on Gwen Stefani.