Kelly Clarkson and Blake Shelton are on good terms. Fans previously assumed that she threw shade at him when she took a trip to Las Vegas. Last weekend, Kelly and her two girlfriends jetted off to Sin City to watch King of Country George Strait live in concert. She needed this trip amid her ongoing divorce battle with estranged husband Brandon Blackstock.
Thankfully, their settlement will come to an end. Kelly has had many victories – some small and some big – as of recently. She's hoping that this nightmare will come to an end. As Country Music Alley previously reported, country superstar Trisha Yearwood showed her support for the American Idol. Now, Kelly is doing the same with Blake.
Wait a minute – Did Kelly Clarkson throw shade at Blake Shelton?!
According to The Blast, Kelly Clarkson poked fun at Blake Shelton. She couldn't help but throw a little shade towards his away during her girls' trip. As fans know, Kelly and Blake are good friends and co-stars on NBC's The Voice. Last week, Kelly took to social media to document her weekend trip which was adults-only.
"Friends, Vegas, Top Golf, and George Strait… I dare you to have a better time than me right now," she wrote in the caption of her Instagram post which featured of selfie with her best friends.
"Seeing the true King of country music tonight," Kelly wrote in another post while tagging Blake and including the hashtag for George Strait.
View this post on Instagram
George performed last Saturday at the T-Mobile Arena. Kelly couldn't wait but to take a jab at Blake and his country legacy. She also donned a cowboy hat while having a good time with her friends. In her third and final post, she did not hold back on her feelings for George Strait.
Kelly was apparently excited about the trip since she got to see her fave play in concert. One fan in the post noted that the caption sounded like shade towards. The user asked Kelly if she forgot about Blake Shelton. However, some would argue that George Strait paved the way for Blake and other country artists.
Shows support for her "brother from another mother"
Kelly Clarkson ended up at a Blake Shelton concert, He's currently on his Heroes and Friends Tours. He's been making surprise appearances with his wife Gwen Stefani. On Friday, August 20, Kelly shared a photo of herself with her two friends smiling with the stage behind them. She tagged Blake and she smiled wide for the camera.
"Get it @blakeshelton we are LIVIN' OUR BEST LIVES!!! THANK YOU," she captioned the post.
View this post on Instagram
Blake is joined by guest stars Lindsay Ell, Martina McBride, Trace Adkins, and Tracy Byrd. The tour kicked off Wednesday, August 18 in Omaha, Nebraska. Kelly also took to her Instagram Stories to include even more footage from the event. She said that her "favorite part" of the concert "was the song circle acoustic vibe."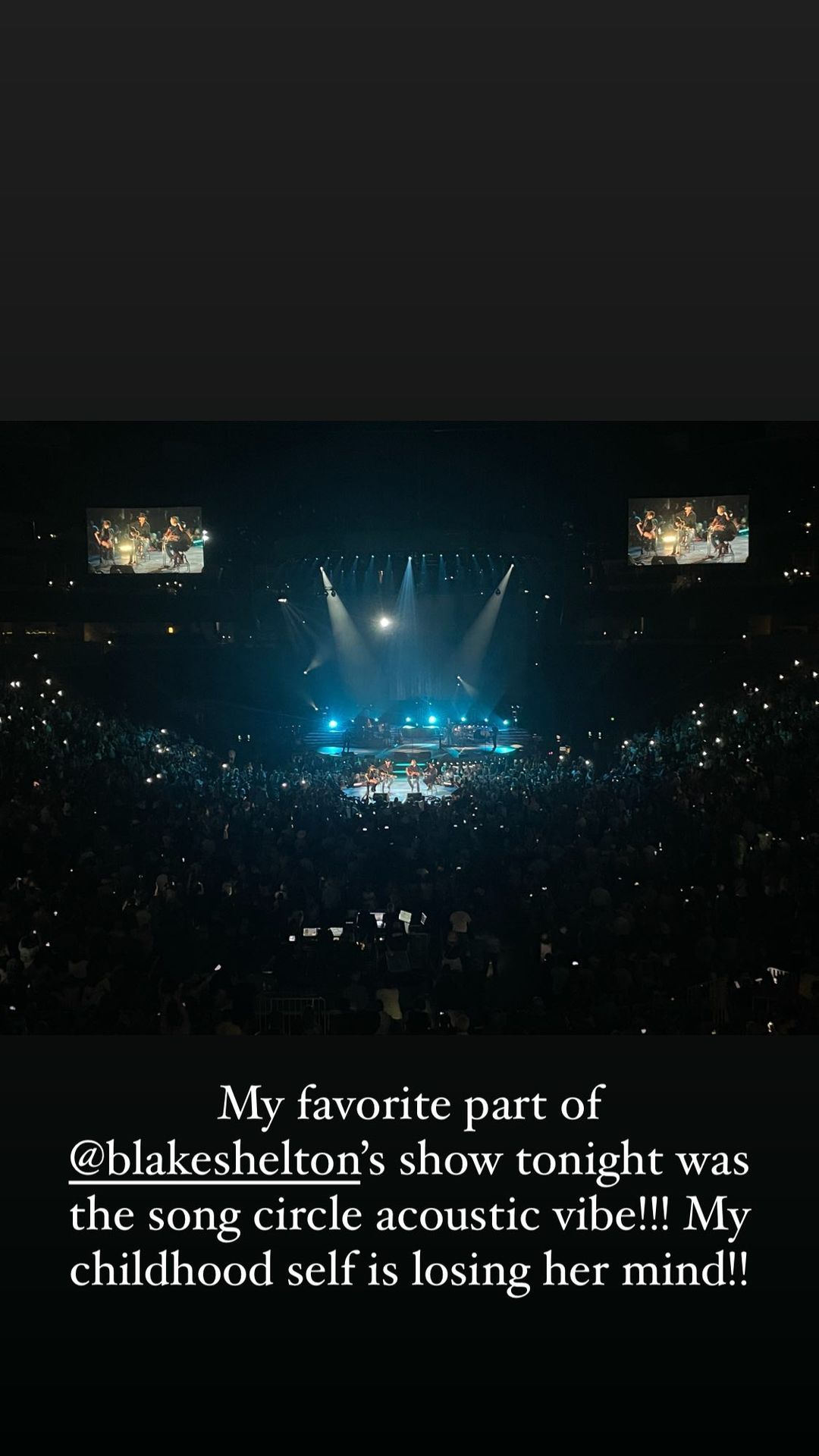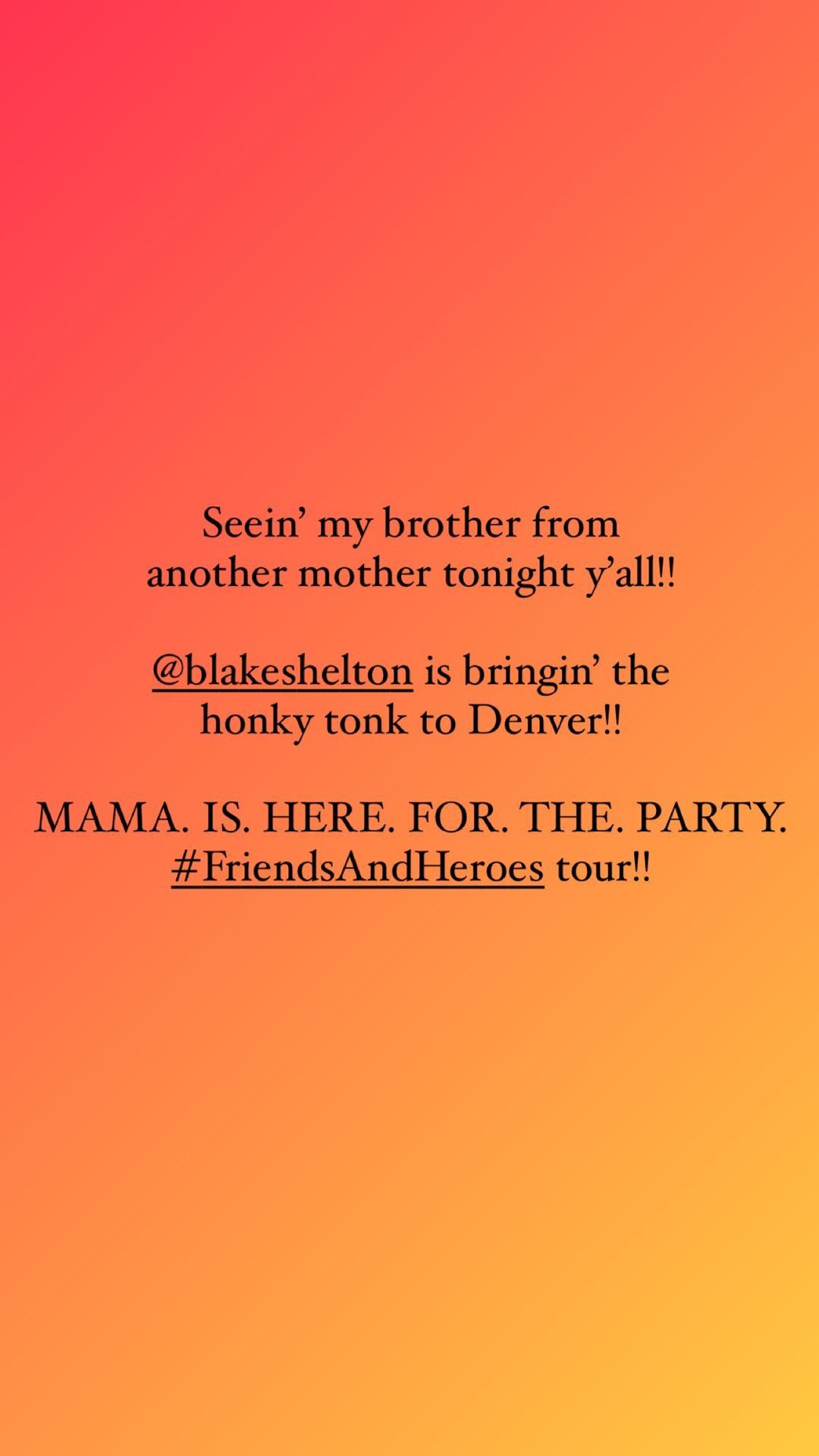 Check back with Country Music Alley for more news on Kelly Clarkson.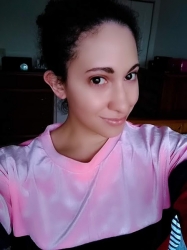 Latest posts by Chanel Adams
(see all)