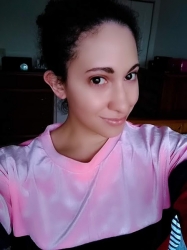 Latest posts by Chanel Adams
(see all)
Gwen Stefani and Blake Shelton married on July 3. It's been a long time coming. Blake and Gwen are enjoying their lives as a newly married couple. Their honeymoon has been unconventional at best. The two made surprise appearances at various concerts and fairs.
The two are splitting their time between Oklahoma and California. As fans know, Gwen is an Orange County girl. But Blake's roots remain in Tishomingo, Oklahoma. In the meantime, their family has been doing just fine. The No Doubt singer shared an adorable photo of herself with her sons and her husband.
Blake Shelton fans rejoice!
Fans have been asking Gwen Stefani on Instagram to share an updated photo of herself with Blake Shelton. They wanted a new photo of the two together since they became husband and wife. The constant wedding photos and concert appearances weren't enough. On Saturday, August 21, Gwen celebrated her son Zuma's 13th birthday.
She snapped a photo with her three sons and her husband, Blake Shelton. This was a special treat for fans who haven't seen the happy family in some time. However, Gwen didn't take to her Instagram feed to share the photo. Rather she shared it via her Instagram Stories.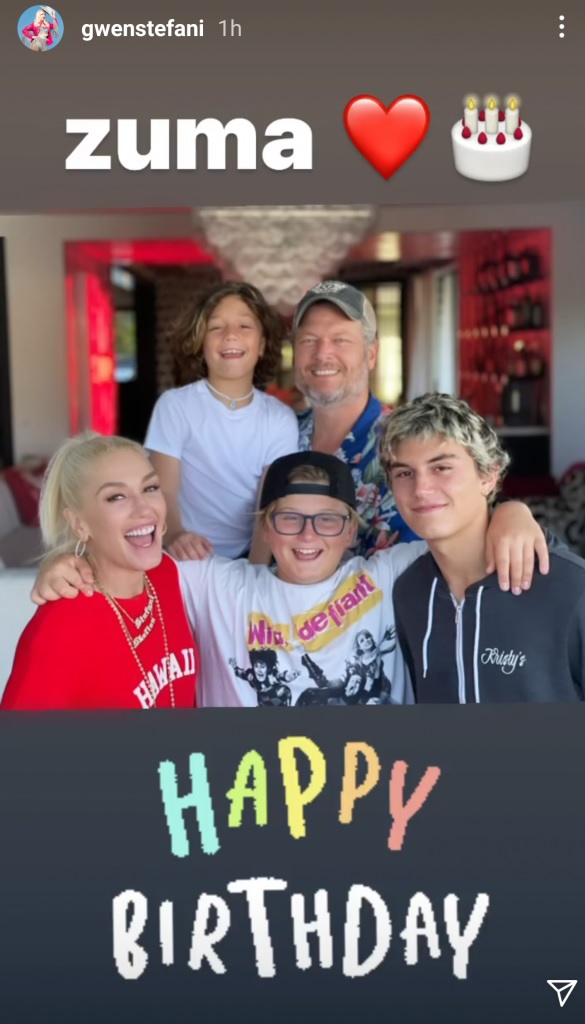 The "Let Me Reintroduce Myself" singer shared the family photo. The new photo includes Gwen, Blake, Zuma Nesta Rock, Kingston James McGregor, and Apollo Bowie Flynn. All of them had big smiles on their faces. They look like an adorable and sweet family. Then she followed up with a photo of Zuma from when he was a baby.
In the post, Gwen included the caption: "Happy Birthday." She shares her three sons with her ex-husband, Gavin Rossdale. She also commemorated her son's birthday via her Instagram feed. She dedicated a post to him, writing, "Happy 13th b day to my Zuma baby we love u so much!! gx."
Gwen Stefani always considers her sons' needs
Gwen Stefani made sure that her sons were a big part of their special day. They played an important role in the ceremony. Gwen and Blake exchanged vows at his ranch during an intimate ceremony in front of their closest friends and family. Each of Gwen's sons recited a line from the Bible.
Gwen wore two custom-made dresses made by Vera Wang. Each of them paid homage to her three sons. She also honored her country music husband. Since their nuptials, the couple spent a lot of time together on the road.
Gwen even made an appearance at several of Blake's concerts. He's currently on his Friends and Heroes Tour. Meanwhile, Gwen will kick off her Just a Girl residency in Las Vegas this fall. They also performed at CMA Summer Jam to perform their award-winning and chart-topping duet, "Happy Anywhere."
Check back with Country Music Alley for more news on Gwen Stefani.