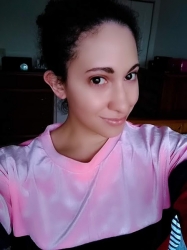 Latest posts by Chanel Adams
(see all)
Gwen Stefani is showing a whole lot of leg lately. The No Doubt singer followed her husband Blake Shelton on his Friends and Heroes Tour. The newly-married couple called it their "Honeymoon Tour." They can't help but show their love while on the road.
Blake kicked off his tour last month. Meanwhile, Gwen is gearing up for her Just A Girl residency in Las Vegas. She's getting ready for the tour life by performing with her superstar husband. The two have made surprise appearances across the country.
Check out her super leggy look
On Saturday, September 11, the pop star posted three new photos on Instagram. In the first photo, Gwen Stefani posed with her leg on Blake Shelton's tour bus. She wore a cropped denim jacket with a silver metallic bodysuit, shimmery shorts, fishnet stockings, and shimmery cowgirl boots. The singer wore her signature blonde hair down and parted in the middle.
She finished off her look with mascara and peach lipstick. She also flashed her nude bra, which peeked out from underneath her bodysuit. In the second photo, Gwen posed confidently against the tour bus. She also shared a closeup of her smoldering makeup look. The "Let Me Reintroduce Myself" star also wore her gold necklaces, which feature the names "Stefani" and "Shelton."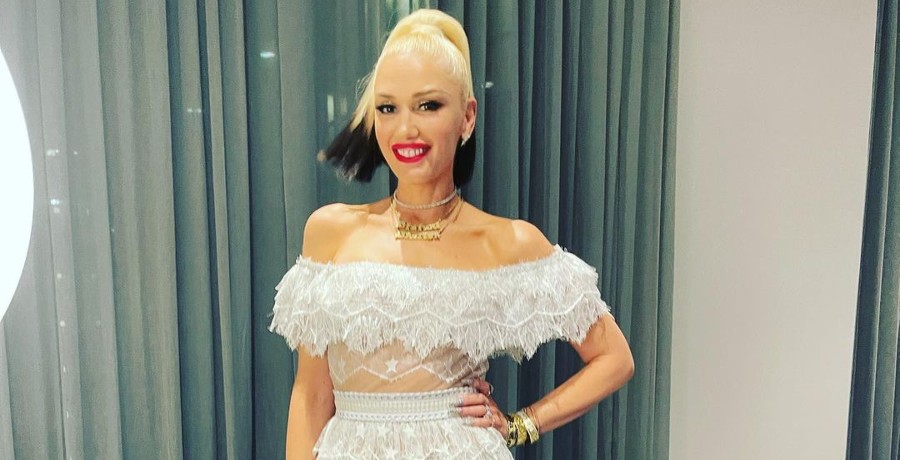 In the caption, Gwen revealed that she's on the Friends and Heroes Tour. The two performed their duets "Nobody But You" and "Happy Anywhere" at their latest stop in Indiana. Fiddler Jenee Fleenor asked, "How much to rent out that outfit?" Kandee Johnson wrote, "You gorgeous supermodel." Tricky Stewart called Gwen a "Superstar," while Rae Lynn said she looked "GORG."
That's not the only time she shared her look. Gwen previously took to Instagram to share a clip of herself spinning around in her outfit. It was a slow-motion version of the singer twirling and running towards the camera. It's probably the same run Gwen does whenever she sees her famous husband.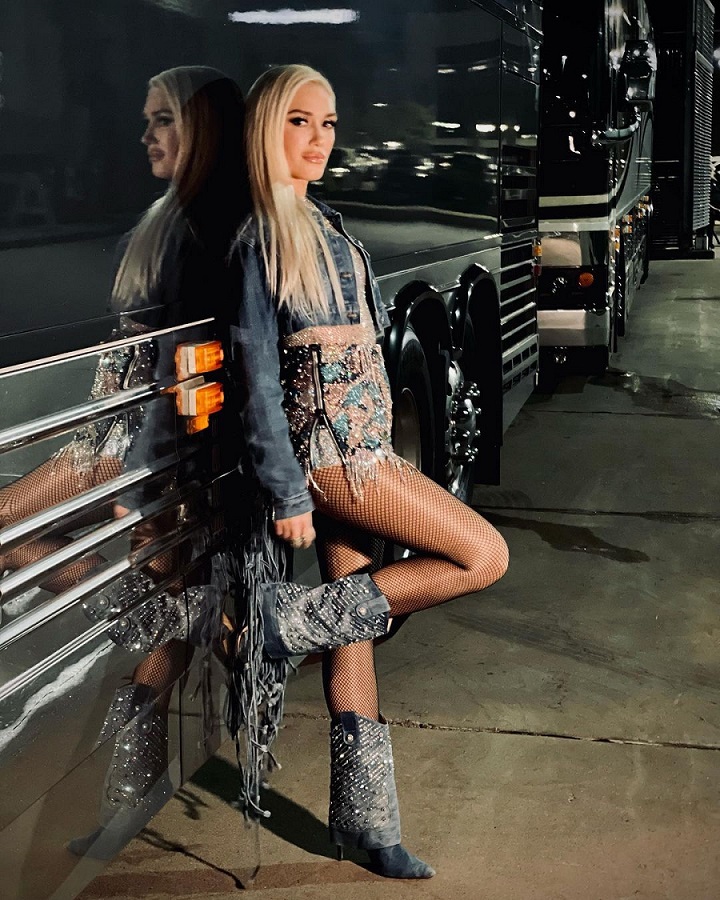 Gwen Stefani shared another daring look before
On Friday, September 10, Gwen Stefani shared another revealing look. She shared photos of herself wearing a white button-down shirt adorned with silver sequins. She wore it open and tied at the waist to show off her silver bralette and denim cutoff shorts, which featured rhinestones and fringe. Gwen told her fans that she was "hopping on the @BlakeShelton #ffriendsandheroes stage" in Nashville.
She paired the look with fishnet stockings, white thigh-high boots, and gold jewelry. Fans couldn't stop raving about Gwen's look. One fan took to the post to call her a "goddess," while another said she "looked like a sweet baby punk rock country angel." Others said that Blake and Gwen make a good-looking couple.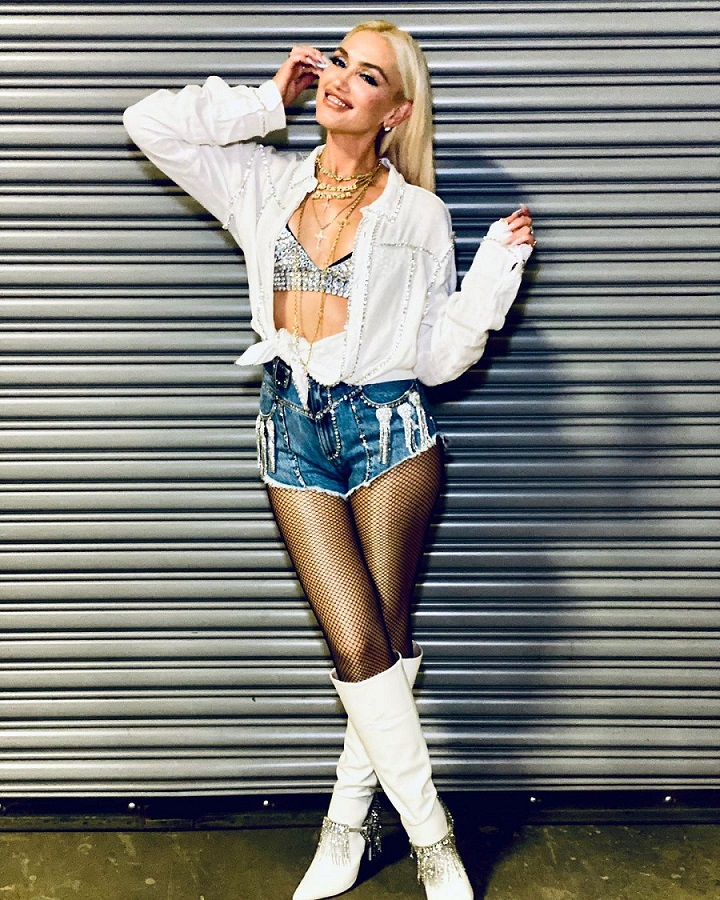 What are your thoughts on Gwen's leggy looks? Which look is your favorite? Sound off below in the comments. Check back with Country Music Alley for more news on Gwen Stefani.