The Kelly Clarkson Show is back in full swing. Season 3 premiered on Monday, September 13. The singer made sure that her show would open in a big way. Kelly filmed her daytime talk show in New York City this time around. But she'll be back in Los Angeles in no time.
She also had some big celebrity guests in her first episode. One of those guests is Coldplay's frontman, Chris Martin. The two had an impromptu jam session that has fans talking to this day. Read on to learn more and check out some of the songs they performed.
Super covers
Kelly Clarkson is known for her popular covers. The singer kicks off each episode with a different song. The Season 3 premiere was epic since she sang with Broadway stars covering Imagine Dragon's "On Top of the World." Kelly also sang along with Chris Martin from Coldplay. The two covered songs from Coldplay, Ginuwine, and Whitney Houston.
The morning show is already popular no thanks to its Kellyoke segments. Fans think she could sing the telephone book and it would turn out good. Her Kellyoke videos attract thousands of views. During the interview, Chris asks Kelly if there are any covers she's done that's shocked her fans.
"Like, I've covered Eminem, which I shouldn't have, but I did," Kelly admitted.
"Yeah, we did one the other day that was just really awful, so I'm not gonna say what it was," Chris explained. "We were trying this thing as a band and I saw it back and it just didn't work at all."
Coldplay did cover Ginuwine's hit song "Pony," which had the crowd going. So, Chris whipped out his guitar and asked Kelly to join him in on the fun. She sat there in shock and asked him if he was really going to play the song. In no time, the two covered the R&B jam.
Chris Martin and Kelly Clarkson harmonize together
Kelly Clarkson's vocals were powerful and flawless. Chris strummed away on his guitar as he joined along in the chorus. The British musician got so overwhelmed by the hot lyrics that he had to fan himself. Kelly giggled and it said this moment was one of her "favorite moments in life."
As fans know, Kelly is a huge Coldplay fan. She's covered the band many times on her talk show. The two also covered Whitney Houston's classic song "I Wanna Dance With Somebody." Chris even performed for her two kids. He invited them to sing the band's breakout 2000 song "Yellow."
What are your thoughts on Kelly's jam session with Chris Martin? Do you like how the two sound together? Sound off below in the comments. Check back with Country Music Alley for more news on Kelly Clarkson.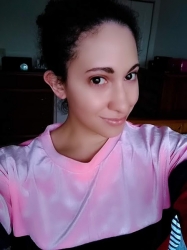 Latest posts by Chanel Adams
(see all)