Kelly Clarkson is celebrating Christmas a little early this year. The talk show host took to social media to promote her new project titled When Christmas Comes Around. As Country Music Alley previously reported, the country singer is coming out with her second Christmas album. It's the follow-up to her 2013 album, Wrapped in Red.
Fans were looking forward to a breakup album. Also, some of them feel that she can't top her first-ever Christmas album. They agree that it has the perfect mix of classic and modern holiday music that's still timeless to this day. But it looks like she will be taking jabs at her estranged husband, Brandon Blackstock.
Kelly Clarkson trolls fans with new music?
On Wednesday, September 22, Kelly Clarkson shared a new post on Instagram. She shared a clip of a golden curtain revealing the singer dressed up in a navy blue gown. The songstress was decked out in old Hollywood glamour. Kelly announced her new Christmas album.
But there's one little problem. There isn't any sound in this clip. Yet, Kelly promised that there will be plenty of music to listen to on this new album.
"You'll have lots to listen to #WhenChristmasComesAround this year… 🎁🎶😉 #ChristmasIsntCanceled," Kelly teased in her post. 
Fans wanted to hear some new music. One user begged, "WHERE IS THE SOUND KELLY." Some of them agreed with that fan and felt like Kelly Clarkson was trolling them. Others thought something was wrong with their phones.
The Voice coach drops new Christmas song
Kelly Clarkson did share one song from the album. Previously, she teased the lead single which is aptly called, "Christmas Isn't Cancelled (Just You)." On Wednesday, she dropped the single on her official YouTube platform.
However, not everyone is in the Christmas spirit so early in the year. The video only amassed over 4,000 views within 23 hours. Unfortunately, comments are closed, so it's hard to tell what fans think of the new song. But she did release the lyric video for the song, which has over 39,000 views and fans buzzing:
"The queen of Christmas original music, can't wait for the music video!"
"I am so here for Kelly's first post break up song being an original Christmas song that drags her ex. Yasss! All those references to songs on Wrapped in Red, so perfect!"

"I didn't know it was possible to combine a breakup and trumpets and jingle bells into one song- I love it, my new favorite genre."

"Only Kelly can throw shade like a queen on a Christmas song!"
"The lyrics… Man. Our Queen is telling her story. Good for her. Just enjoy your life Queen. No one can ruin Christmas for my Queen 👑"
Get the complete tracklist
Kelly Clarkson returned to Instagram to drop the full tracklist. She shared a clip that unveiled each song that will be on the album. The "Because of You" singer also confirmed her duet with Ariana Grande. Fans are looking forward to hearing more music from the powerhouse vocalists. The tracklist includes the following:
1. Merry Christmas baby
2. It's Beginning to Look A Lot Like Christmas
3. Christmas Isn't Cancelled (Just You)
4. Merry Christmas (To The One I Used To Know)
5. Rockin' Around The Christmas Tree
6. Glow (featuring Chris Stapleton)
7. Santa Baby
8. Santa, Can't You Hear Me (featuring Ariana Grande)
9. Last Christmas
10. Jingle Bell Rock
11. Blessed
12. Christmas Come Early
13. Under the Mistletoe (featuring Brett Eldridge)(bonus track)
14. All I Want For Christmas Is You (bonus track)
15. Christmas Eve (bonus track)
Like the previous post, fans can't hear any music in this one either. Most of them are excited about Kelly's duet with Ariana. Others called her a "Christmas queen," while some noticed she's already getting into the holiday spirit.
What are your thoughts on Kelly's new Christmas song? Are you excited about her new album? Sound off below in the comments.
Check back with Country Music Alley for more news on Kelly Clarkson.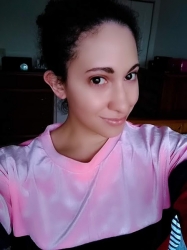 Latest posts by Chanel Adams
(see all)